Links for Senior Resources:
 Many aging adults are unaware of the available care options and programs that can help them maintain their independence and quality of life. So we created a free resource that provides comprehensive information on topics like financial support and care options that are available in their area. You can read more about our work here:
https://www.arivale.com/your-data/
SEMA genetic inheritance testing
Human Metabolome   http://www.hmdb.ca/
https://nutritiongenome.com/blog/
Food BALL DATABASE genetic food
Exploring Smart Drugs, Fasting, and Fat Loss — Dr. Rhonda Patrick (#237)
https://www.arivale.com/your-data/
SEMA genetic inheritance testing
Human Metabolome   http://www.hmdb.ca/
https://nutritiongenome.com/blog/
https://www.arivale.com/your-data/
SEMA genetic inheritance testing
Connect with Rhonda Patrick:
Website | Podcast |Twitter | Instagram | Facebook
Show Notes
What new areas, experiments, discoveries, or hypotheses is Rhonda most excited about these days? [08:02]
Your mom was right about broccoli and brussels sprouts. [10:12]
How stressing out our cells may help slow the aging process. [10:52]
Rhonda's best practices for time-restricted eating — and who might not benefit from this practice. [13:00]
How do the effects of fasting differ from those of a low-carb, high-fat (LCHF) diet, and what key metrics would indicate benefit (or lack thereof)? [16:16]
Rhonda's thoughts on minimum effective dose for sauna benefits in session time, temperature, and frequency — and what those benefits might be. [23:33]
Is there any benefit to combining heat stress and cold stress in rapid succession — or do they cancel each other out? [45:30]
Thoughts on how regular hyperthermic conditioning and hypothermic stress relate to muscle hypertrophy in strength training. [51:16]
Why does Rhonda prefer the sauna after, rather than before, a workout? [55:22]
How does Rhonda feel about nootropic cognitive-enhancing supplements? Does she take any herself? [1:01:38]
Rhonda elaborates on the importance of vitamin D and omega 3. [1:08:51]
Is sulforaphane a nootropic? [1:11:12]
On cold-press juicing broccoli sprouts for sulforaphane and why Rhonda prefers blending. [1:17:50]
What is the most effective non-pharmaceutical pain reliever for arthritis sport injury sufferers? [1:18:34]
Because the FDA doesn't require dietary supplements to be tested before going to market, how can we find trustworthy supplement brands? [1:26:35]
What are Rhonda's core supplements and foods for health and brain function? [1:29:00]
What does Rhonda's exercise routine look like? [1:53:17]
What is the 80/20 of lifestyle changes — that is, what twenty percent of lifestyle inputs lead to eighty percent of positive effects? [1:57:16]
Has Rhonda considered taking meat completely out of her diet?[2:11:21]
Of paleo, ketogenic, and vegetarian diets, which seems best poised to combat inflammation, and what are the general pros and cons of each? [2:17:12]
Do probiotics need to be taken forever, or do the introduced strains of bacteria gain a foothold at some point? [2:28:25]
Are artificial sweeteners bad for gut (or overall) health? Should they be avoided altogether? [2:34:15]
Is metformin really damaging to mitochondria, or is it more of a hormetic stressor? [2:36:28]
For superior health, does Rhonda recommend staying away from all alcohol, or are a couple glasses of red wine on the weekend okay? [2:39:24]
People Mentioned
https://tim.blog/2017/05/04/smart-drugs-fasting-and-fat-loss/
https://www.restartmed.com/cytomel-weight-loss/
https://tim.blog/2017/05/04/smart-drugs-fasting-and-fat-loss/
http://mydietclinic.com/category/blog/#.W3kZWM5KiUl
https://www.genomickitchen.com/blog/
https://foodandnutrition.org/from-the-magazine/nutrigenomics-future-or-fad/
https://www.mealenders.com/nutrigenomics-personalized-nutrition-way-healthier/
beers criteria public translation – Medications not to use in the elderly
NIH alternative medicine research
Low Dose Naltrexone Therapy Link
http://www.fpi.org/ Food Packaging Institute
http://www.weightymatters.ca/ <<<Yoni Freedhoff Blog on OBESITY and weight
https://cspinet.org/ Center for Science in the Public Interest
http://www.neurosofttms.com/ REPETITIVE TMS machine
The Golden Age of Gluten Free Living: New Findings, Tests And Treatments
Environmental resources and issues
http://www.silentspring.org/ < Environmental
http://www.asyousow.org/
http://www.hchs.edu/freeliterature.htm Nutraceutical and wellness handout
Weight Loss calculator – pennington
http://videos.med.wisc.edu/videos/recent/ MEDICAL Videos
http://www.essentialevidenceplus.com/
http://examine.com/ _ Nutrition and supplements research
http://online-learning.harvard.edu/courses Online medical lectures
http://www.louisvillelectures.org/ online medical lectures
http://www.americanschoolofnaturalhealth.com/
http://www.learnerstv.com/Free-medical-video-lecture-courses.htm
DNA Barcoding site and education
European Gastroenterology Education CME
Hepatitis C Treatment Guidelines
American College of Cardiology
Journal of the American College of Cardiology
Guidelines for AMerican College of Cardiology
European Society of Cardiology
http://www.1000genomes.org/ genome database
http://ensembl.org/ Genome database
https://www.genome.gov/
https://www.genome.gov/
http://www.sugarscience.org/ Sugar science database
Brancehd chain amino acids – examine.com
Natural Resources Defense council – environemntal safety watchdog
Institute for responsible technology – environmental watchdog
http://www.sourcewatch.org/index.php/International_Association_for_the_Study_of_Obesity
http://greatnonprofits.org/ – Non profit organization reviews
Renal fellows blog – urinary crystal section
A SYSTEMATIC APPROACH TO IDENTIFYING Drug-Seeking Patients
http://www.spine-health.com/forum/treatment/pain-management
Educational agenda for diagnostic error reduction
The next organizational challenge: finding and addressing diagnostic error.
Delivering High-Quality Cancer Care: Charting a New Course for a System in Crisis
IMPROVING DIAGNOSIS IN HEALTH CARE
Abandoning Daily Routine Chest Radiography in the Intensive Care Unit: Meta-Analysis
ACR appropriateness criteria routine chest radiographs in intensive care unit patients. J Am Coll Radiol 2013;10:170-174.
Arterial hyperoxia and mortality in critically ill patients: a systematic review and meta-analysis
Is loaded breathing an inflammatory stimulus
Timing is everything – metabolic implications of sleep deprivation
Timing Is Everything metabolic implications of sleep restriction
Early versus Late Parenteral Nutrition
Initial Trophic vs Full Enteral Feeding
Critical care alert December 2015
Sarcoid – annals of Internal Medicine
The National Institute of Diabetes and Digestive and Kidney Diseases (NIDDK)
__________________________________________________________________________________________
Obesity
Physicians' attitudes about obesity and their associations with competency and specialty: A cross-sectional study
U.S. primary care physicians' diet-, physical activity-, and weight-related care of adult patients.
Diet, exercise or diet with exercise: comparing the effectiveness of treatment options for weight-loss and changes in fitness for adults (18-65 years old) who are overfat, or obese; systematic review and meta-analysis
Control of Body Weight by Eating Behavior in Children
gg
Obesity, weight loss, and physician's advice.
Barriers to obesity management: a pilot study of primary care clinicians
Pharmacological Management of Obesity: An Endocrine Society Clinical Practice Guideline
Diagnosis of obesity by primary care physicians and impact on obesity management.
2013 AHA/ACC/TOS Guideline for the Management of Overweight and Obesity in Adults A Report of the American College of Cardiology/American Heart Association Task Force on Practice Guidelines and The Obesity Society
2013 AHA/ACC/TOS Guideline for the Management of Overweight and Obesity in Adults A Report of the American College of Cardiology/American Heart Association Task Force on Practice Guidelines and The Obesity Society
Weight Loss with a Low-Carbohydrate, Mediterranean, or Low-Fat Diet
Prevalence of Overweight, Obesity, and Extreme Obesity Among Adults: United States, 1960–1962 Through 2011–2012
http://circ.ahajournals.org/content/early/2013/11/11/01.cir.0000437739.71477.ee.full.pdf
Prevalence of Overweight and Obesity in the United States, 2007-2012
American Medical Association. AMA Adopts New Policies on Second Day of Voting at Annual Meeting1
A changing battlefield in the fight against fat
Inflammatory mechanisms in obesity.
International Classification of Diseases, Ninth Revision, Clinical Modification (ICD-9-CM)
Treating obesity seriously: when recommendations for lifestyle change confront biological adaptations
Motivational interviewing for weight loss.
Motivational interviewing for weight loss.
Difficult Conversations: From Diagnosis to Death
FDA approves weight-management drug Contrave
Food Addiction: An Evolving Nonlinear Scienceutrients-06-05370.pdf
Obesity and addiction: neurobiological overlaps.
Obesity and addiction neurobiological overlaps.
http://www.ncbi.nlm.nih.gov/pmc/articles/PMC4553650/
http://www.ncbi.nlm.nih.gov/pmc/articles/PMC4553650/
Food Addiction in the Light of DSM-5
http://www.ncbi.nlm.nih.gov/pmc/articles/PMC4245594/pdf/nutrients-06-05370.pdf
http://press.endocrine.org/doi/pdf/10.1210/jc.2014-3415
Efficacy of a meal replacement diet plan compared to a food-based diet plan after a period of weight loss and weight maintenance: a randomized controlled trial
Cardiovascular Effects of Intensive Lifestyle Intervention in Type 2 Diabetes
Treating obesity seriously: when recommendations for lifestyle change confront biological adaptations
Treating obesity seriously when recommendations for lifestyle change confront biological adaptations
Comparison of Weight Loss Among Named Diet Programs in Overweight and Obese Adults A Meta-analysis
http://jama.jamanetwork.com/article.aspx?articleid=1900510&resultClick=3
Long-term weight loss maintenance1
http://ajcn.nutrition.org/content/82/1/222S.full.pdf+html
American Board of Obesity Medicine
Potential role of meal frequency as a strategy for weight loss and health in overweight or obese adults.
Effectiveness of a Medifast meal replacement program on weight, body composition and cardiometabolic risk factors in overweight and obese adults: a multicenter systematic retrospective chart review study
Green tea for weight loss and weight maintenance in overweight or obese adults
Apovian CM. Pharmacotherapy For The Management Of Obesity. Medscape CME
Goals of Weight-Loss Therapy and Strategies for Attainment (printer-friendly)
http://www.medscape.org/viewarticle/809408_6
Effect of dietary adherence on the body weight plateau: a mathematical model incorporating intermittent compliance with energy intake prescription
Relative changes in resting energy expenditure during weight loss a systematic review
Intermittent versus daily calorie restriction which diet regimen is more effective for weight loss
Changing the Endpoints for Determining Effective Obesity Management
Intermittent Fasting and Human Metabolic Health.
Frequency and Circadian Timing of Eating May Influence Biomarkers of Inflammation and Insulin Resistance Associated with Breast Cancer Risk.
Eating late in the evening is associated with childhood obesity in some age groups but not in all children: the relationship between time of consumption and body weight status in U.S. children
The health impact of nighttime eating: old and new perspectives.
Quantity and Quality of exercise for developing and maintaining cardiorespiratory, musculoskeletal, neurimotor fitness
The influence of diet on the gut microbiota and its consequences for health
Acute Adaptation of Energy Expenditure predicts diet induced weight loss
http://ajcn.nutrition.org/content/early/2014/07/30/ajcn.113.079822.full.pdf+html
http://ajcn.nutrition.org/content/early/2014/07/30/ajcn.113.079822.full.pdf+html
Long-term weight loss maintenance1
Obesity Epidemic
Over 2/3 of U.S. adults are overweight or obese and steadily increasing.
BMI (body mass index) is the major standard to measure weight conditions

Overweight = 25.0-29.9
Obese = >29.9
In addition to treating weight-related comorbidities, obesity needs to be a focus of long-term treatment, as 1/3 of patients in a medical practice are likely to be obese.
Obesity is a Disease
Obesity is a chronic illness affecting health via the following mechanisms:
Fat mass effects
Metabolic effects
Inflammatory effects
In 2013, the AMA adopted a policy that obesity is "a disease requiring a range of medical interventions" (AMA, 2013). The policy was adopted "to advance obesity treatment and prevention."
Weight Management Guidelines
________________________________________________
Procyanidins alleviates morphine tolerance by inhibiting activation of NLRP3 inflammasome in microglia
Role of microglia in neuropathic pain, postoperative pain, and morphine tolerance
Minocycline potentiates the anti-hyperalgesic effect of ceftriaxone in CCI-induced neuropathic pain in rats
Xenohormetic and anti-aging activity of secoiridoid polyphenols present in extra virgin olive oil
Xenohormesis mechanisms underlying chemopreventive effects of some dietary phytochemicals.
Plant Polyphenols Chemical Properties, Biological Activities, and Synthesis
Nutrients, Clock Genes, and Chrononutrition
Lycopene Deficiency in Ageing and Cardiovascular Disease
Association between whole grain intake and stroke risk evidence from a meta-analysis
Dietary flavonoids intake and the risk of coronary heart disease a dose-response meta-analysis of 15 prospective studies.
Meta-Analysis of the Association Between Whole Grain intake and CHD risk
NF-κB and Nrf2 as potential chemopreventive targets of antiinflammatory phytonutrients
Piper Betel Leaf A Reservoir of Potential Xenohormetic Nutraceuticals with Cancer-Fighting Properties
Piper Betel Linn (Betel Vine), the Maligned Southeast Asian medicinal plant and cancer effects
Computer-aided discovery of biological activity spectra for anti-aging and anti-cancer olive oil oleuropeins.
The Reciprocal Interactions between Polyphenols and Gut Microbiota and Effects on Bioaccessibility
The type and quantity of dietary fat and carbohydrate alter fecal microbiome and scfa excretion in metabolic syndrome population
Interaction between Phenolics and Gut Microbiota The role in human health
Pomegranate's Neuroprotective Effects against Alzheimer's Disease mediated by urolithins – gut derived metabolites
Oxidative stress and Alzheimer's disease dietary polyphenols as potential therapeutic agents
Studies on Modulation of Gut Microbiota by Wine Polyphenols_ From Isolated Cultures to Omic Approaches
Up-regulating the Human Intestinal Microbiome Using Whole Plant foods b            <<<EXCELLENT
Circadian Clocks Setting Time By Food
Interactions between light, mealtime and calorie restriction to control daily timing in mammals
Interdependence of nutrient metabolism and the circadian clock system Importance for metabolic health
Anticancer immunotherapy by CTLA-4 blockade relies on the gut microbiota
Dim Light at Night Disrupts Molecular Circadian Rhythms and Affects Metabolism
Light pollution the consequences of excessive illumination on the retina
Could microbial therapy boost cancer immunotherapy
Noise Induces Oscillation and Synchronization of the Circadian Neurons.
Commensal Bifidobacterium promotes antitumor immunity and facilitates anti-PD-L1 efficacy.
Melatonin An Underappreciated Player in Retinal Physiology
Relationship between Oxidative Stress, Circadian Rhythms, and AMD
Debug Your Bugs – How NLRs Shape Intestinal Host-Microbe Interactions.
Fruit and vegetable consumption and all cause mortality – australian cohort
Effects of a Facial Cream Containing anatabine in rosacea
Environmental risk factors and Parkinson's disease An umbrella review of meta-analyses
Midlife milk consumption and substantia nigra neuron density at death
Emerging Infections of CNS Avian Influenza A Virus, Rift Valley Fever Virus and Human Parechovirus
Development of interspecific Solanum lycopersicum and screening for Tospovirus resistance
Thrips and tospoviruses come of age mapping determinants of insect trasmission
Links to VAPE and E cigarette safety:
Cigarette Smoking and Electronic Cigarettes Use A Meta-Analysis
Safety evaluation and risk assessment of electronic cigarettes as tobacco cigarette substitutes
Safety evaluation and risk assessment of electronic cigarettes as tobacco cigarette substitutes systemic review
Comments on Scheffler et al. Cytotoxic Evaluation of E-Liquid Aerosol using Different Lung Derived Cell Models
Chemical evaluation of electronic cigarettes.
Electronic cigarettes in the USA a summary of available toxicology data
How risky is it to use e-cigarettes
The effect of potential electronic nicotine delivery system regulations on nicotine product selection
Electronic cigarettes product characterisation and design considerations
Electronic cigarettes human health effects
An online method for the analysis of volatile organic compounds in electronic cigarette aerosol based on proton transfer reaction mass spectrometry
Peering through the mist systematic review of what the chemistry of contaminants in electronic cigarettes tells us about health risks
Comparison of select analytes in aerosol from e-cigarettes with smoke from conventional cigarettes and with ambient air
Nicotine delivery, tolerability and reduction of smoking urge in smokers following short-term use of one brand of electronic cigarettes
Electronic cigarettes as a harm reduction strategy for tobacco control a step forward or a repeat of past mistakes
In adult smokers unwilling or unable to quit, does changing from tobacco cigarettes to electronic cigarettes decrease the incidence of negative health effects associated with smoking tobacco
It's not smoke. It's not tar. It's not 4000 chemicals. Case closed Exploring attitudes, beliefs, and perceived social norms of e-cigarette use among adult users
Cigarette Smoking and Electronic Cigarettes Use A Meta-Analysis
Electronic Cigarettes Efficacy and Safety at 12 Months Cohort Study
Others:
Eating attentively a systematic review and meta-analysis of the effect of food intake memory and awareness on eating
Pilot study Mindful Eating and Living (MEAL) Weight, eating behavior, and psychological outcomes associated with a mindfulness-based intervention for people with obesity
The role of dietary fiber in satiety, glucose, and insulin – studies with fruit and fruit juice
Changing perceptions of hunger on a high nutrient density diet
Health Benefits of Fruits and Vegetables
The effect of fruit in different forms on energy intake and satiety at a meal
Sweetness, Satiation, and Satiety
CALORIE RESTRICTION AND AGING A LIFE-HISTORY ANALYSIS
Dietary Restriction, Growth Factors and Aging from yeast to humans
MODELS FOR PRECLINICAL STUDIES IN AGING-RELATED DISORDERS
Finding Ponce de Leon's Pill Challenges in Screening for Anti-Aging Molecules
Caloric restriction From soup to nuts
Longevity and skeletal muscle mass the role of IGF signalling,the sirtuins, dietary restriction and protein intake
The short-lived African turquoise killifish_ an emerging experimental model for ageing
Dilute Concentrations of a Psychiatric Drug Alter Behavior of Fish from Natural Populations
Psychedelic medicine a re-emerging therapeutic paradigm
Serotonergic Hallucinogens and Emerging Targets for Addiction Pharmacotherapies
Ayahuasca Pharmacology, neuroscience and therapeutic potential
Here are some of the scary things you will learn at the Lip Balm Anonymous Web site. Addict Emma S. was observed by her college roommate putting lip balm on in her sleep. Lisa M. uses lip balm an average of 108 times a day. Rachel F. keeps a tube of lip balm in the pocket of her bathrobe in case she needs a fix in the shower. Cindy R. resorted to rubbing creme rinse into her lips after finding she'd left her lip balm in her checked luggage.
Equally scary is the fact that these women failed to see that Lip Balm Anonymous is a joke, a tongue-in-cheek takeoff on Alcoholics Anonymous and its countless 12-step addiction spinoffs. It exists only on the Internet. There are no LBA meetings, no books, no bumper stickers. The self-test is basically AA's with "lip balm" substituted for "alcohol," and "coating" for "drinking." ("Do you occasionally coat heavily after a disappointment,
quarrel or rough day?" ) Nonetheless, 75 percent of the estimated 30,000 testimonies founder Kevin C. received last year were serious.
Clearly the LBA site has touched a nerve. What the site doesn't do is answer the million-dollar question: Are lip balms addictive? Is there some biological reason why using a lip balm makes you need to keep using it? Kevin C. believes the answer is yes. Having spent years never leaving home without my Vaseline, I can almost believe it.
Kevin C. — by day a mild-mannered information specialist in Mountain View, Calif. — has referred me to Charles Zugerman, an associate professor of dermatology at Northwestern University in Chicago. Zugerman is a consultant to the lip balm industry. While admittedly this may impart a certain bias, it also makes him one of the few medically qualified individuals with lip balm experience. I have presented Zugerman with one of the
theories put forth on the LBA site, one that seemed to make good sense: "The wax in lip balms causes the moisture receptors in your lips to send a stop signal to the moisture-releasing agents in the skin of the lips." In other words, since you're giving the lips an outside source of lubricant, they stop making their own.
"There are no 'moisture receptors' in the lips," says Zugerman flatly. Nor, he goes on to say, do the lips have moisture-releasing agents. "Lips don't have sebaceous glands." He senses my dismay. "Other than that, it's a good theory."
Another theory is that there's some ingredient that's drying out the lips, creating the need for ever more goo. Recovering balm-aholic Lisa "I'm very proud to say I'm able to go for six to eight hours without using" M. thinks it's the alcohol. Zugerman points out that most cosmetics and toiletries have some chemical formulation of alcohol or another, but that it's typically not the drying kind (ethyl alcohol). Often it's steryl alcohol, an emulsifier added to keep the ingredients from separating.
Kevin C.'s theory is that it's camphor and menthol, a duo that appears in Blistex, Carmex and other "medicated" lip balms. The two are known in the industry as "counter irritants." It's cure by distraction: Menthol and camphor create a cooling, tingling sensation that takes your mind off the burning and stinging of chapped lips. No one I spoke to — not the FDA, not Zugerman, not Howard Maibach, author of the
Textbook of Cosmetic Dermatology — knew of any data to suggest that either substance was drying. Ditto phenol, a mild anesthetic that often turns up in lip balm ingredient lists.
Which leaves us at exfoliants. Some balms have started adding alpha hydroxy acids, which burn off the dry, dead outer layer of the chapped lip. As with AHAs in facial moisturizers, however, the companies insist that the amounts are so small they shouldn't cause drying. The original lip exfoliant is salicylic acid, found in Carmex. Carmex is the name that comes up most often in discussions of lip balm addictions. There was once an
entire section devoted to Carmex Addiction in the alt.folklore.urban newsgroup on Usenet.
Carmex was originally designed for cold sores. It speeds their disappearance by burning off the layers of dead skin on the healing blemish. It stands to reason that using it on healthy lips — which 80 percent of Carmex buyers do — might expose soft new lip skin to the elements before it's ready and thereby lead to chapping.
http://www.lipbalmanonymous.com/
Human Exposure to Wastewater-Derived Pharmaceuticals in Fresh Produce – a randomized controlled trial focusing on Carbamazepine <<<Excellent
Exposure to pharmaceutical contaminants via vegetables _ April 18, 2016 Issue – Vol
Root Vegetables Irrigated With Treated Wastewater Can Take Up Certain Drugs _ Chemical & Engineering News
Crops Absorb Pharmaceuticals From Treated Sewage _ Chemical & Engineering News
Do Antibiotics in Wastewater Pollute Food Crops_ _ Chemical & Engineering News
Irrigation of Root Vegetables with Treated Wastewater Evaluating uptake of pharmaceuticals and asscoiated Human health risks
http://www.gooddaypharmacy.com/compounding/podiatry/anti-fungal-therapy/
Essential oils for nail fungus
Fungal Nail Infections (Onychomycosis) A Never-Ending story (1)
Common nail changes and disorders in older people
Treatment of toenail onychomycosis with 2% butenafine and 5%Melaleuca alternifolia (tea tree) oil in cream
Fungal Nail Infections (Onychomycosis) A Never-Ending story (1) ANTIMICROBIAL ACTIVITIES OF SKINCARE PREPARATIONS FROM PLANT EXTRACTS
Print_ Tea Tree Oil Plus Fungicide Beats Nail Fungus
The placebo effect illness and interpersonal healing
Diagnostic Labels, Stigma, and Participation in Research Related to Dementia and Mild Cognitive Impairment
THE ANTIMICROBIAL ASSESSMENT OF SOME NIGERIAN HERBAL SOAP
Melaleuca alternifolia (Tea Tree) Oil a Review of Antimicrobial activities
Common nail changes and disorders in older people
A review of applications of tea tree oil in dermatology
Essential oils, their therapeutic properties, and implication in dentistry_ A review
In vitro antifungal activity of the tea tree (Melaleuca alternifolia) essential oil and its major components against plant pathogens
Advice on Foot Care » Research on Tea Tree Oil & Fungus
Progression and Recurrence of Onychomycosis (printer-friendly)
Somatic symptoms beyond 'medically unexplained
Deinstitutionalised patients, homelessness and imprisonment
First steps in qualitative data analysis- transcribing
Pain Assessment The Roles of Physician Certainty and Curiosity
The Values and Value of Patient-Centered Care
Patients Treated at Multiple Acute Health Care Facilities
Everyday drug diversions a qualitative study of the illicit exchange and non-medical use of prescription stimulants on a university campus
Twelve myths about shared decision making
getting to no – denying patient requests
Rural health around the world challenges and solutions
Unintended Influence – words meaning more than we intended
Communication at Times of Transitions How to Help Patients Cope with Loss and Re‐Define Hope
The Fragmentation of US health care
Directly Observed Car Can Unannounced Standardized Patients Address a Gap in Performance Measuremen
When Less Is More_ Issues Of Overuse In Health Care
Studies Show Medicaid Patients Have Worse Access and outcomes than provately insured
Diagnostic Labels, Stigma, and Participation in Research Related to Dementia and Mild Cognitive Impairment
A Remedy for Fragmented Hospital Care
Do Patient Requests for Antidepressants Enhance or Hinder Physicians' Evaluation of Depression
Less Is More JAMA – less health care can mean more
Pharmacological interventions for somatoform disorders in adults
Sickness absence, marginality, and medically unexplained physical symptoms
Potential barriers to the use of health services among ethnic minorities
Physicians Criticizing Physicians to Patients
Medically unexplained symptoms and the disease label
Experts' opinions on the management of medically unexplained symptoms in primary care. A qualitative analysis of narrative reviews and scientific editorials
Somatic symptoms beyond 'medically unexplained
---
HAIR
Treatment of frontal fibrosing alopecia and lichen planopilaris a systematic review
The use of oral pioglitazone in the treatment of Lichen planopilaris
The surgical treatment of cicatricial alopecia
Successful Hair Transplant Outcome in Cicatricial Lichen Planus of the Scalp by Combining Scalp and Beard Hair Along With Platelet Rich Plasma
Sterol Intermediates of Cholesterol Biosynthesis Inhibit
Sterol Intermediates of Cholesterol Biosynthesis Inhibit Hair Growth and Trigger an Innate Immune Response in Cicatricial Alopecia
Primary cicatricial alopecia diagnosis and treatment.
onlinelibrary.wiley.com_doi_10.1111_j.1468-3083.2008.02963
Mucosal (oral and vulval) lichen planus in women are angiotensin-converting enzyme inhibitors protective, and beta-blockers and non-steroidal anti-inflammatory drugs associated with the condition
Lichen Planopilaris with Autoimmune Thyroiditis Lichen Planopilaris Treated With a Peroxisome Proliferator—Activated Receptor γ Agonist
Lichen Planopilaris Treated With a Peroxisome Proliferator—activated recepto agonist
Lichen planopilaris epidemiology a retrospective study of 80 cases.
Katoulis_et_al-2009-Journal_of_the_European_Academy_of_Dermatology_and_Venereology
Hair loss due to lichen planopilaris after hair transplantation
Frontal fibrosing alopecia treatment with oral dutasteride and topical pimecrolimus
Frontal fibrosing alopecia multicenter review of 355 patients
Frontal Fibrosing Alopecia An Update on Epidemiology and Treatment Frontal fibrosing alopecia A review of 60 cases
Frontal fibrosing alopecia a clinical review of 36 patient
Frontal Fibrosing Alopecia – treatment with oral dutasteride and topical pimecrolimus
Efficacy and safety of mycophenolate mofetil for lichen planopilaris
Comparison of Systemic Mycophenolate Mofetil with Topical Clobetasol in Lichen Planopilaris_ A Parallel-Group, Assessor- and Analyst-Blinded, Randomized Controlled Trial – Springer
Finasteride-mediated hair regrowth and reversal of atrophy in a patient with frontal fibrosing alopecia
Diffuse hair loss in an adult female_ Approach to diagnosis and management Shrivastava SB – Indian J Dermatol Venereol Leprol
Diagnosing and Treating Hair Loss
Anti-inflammatory activity of AP-SF, a ginsenoside-enriched fraction, from Korean ginseng
Clinical efficacy of a cosmetic treatment by Crescina(®) human follicle stem cell on healthy males with androgenetic alopecia.
Antiandrogenic drugs, a therapeutic option for frontal fibrosing alopecia patients
Trichoscopic features of frontal fibrosing alopecia Results in 249 patients
A randomized double-blind placebo-controlled pilot study lantoprost for hair growth
Female pattern alopecia current perspectives
Hair loss in women medical and cosmetic approaches to increase scalp hair fullness
http://www.skintherapyletter.com/2012/17.6/1.html
http://www.dermatology.ucsf.edu/clinics/hairnail.aspx << Clinic
Alterations in Hair Follicle Dynamics in Women
Hyperandrogenism Due to a Testosterone-Secreting Sertoli-Leydig Cell Tumor Associated with a Dehydroepiandrosterone Sulfate-Secreting Adrenal Adenoma in a Postmenopausal Woman
Nutrition of women with hair loss problem during the period of menopause
Efficacy and safety of a low-level laser device in the treatment of male and female pattern hair loss a multicenter, randomized, sham device-controlled, double-blind study
Promising Therapies for Treating and_or Preventing Androgenic Alopecia
Study of Platelet-Rich Plasma Injections in the Treatment of Androgenetic Alopecia Through an One-Year Period
Treatment of frontal fibrosing alopecia and lichen planopilaris – review
Management of Hyperglycemia in the Hospital Setting
Bipolar Disorder — A Focus on Depression
Practice Guidelines for the Perioperative Management of Patients with Obstructive Sleep Apnea An Updated Report by the American Society of Anesthesiologists Task Force on Perioperative
Routine preoperative medical testing for cataract surgery
Patient Satisfaction History, Myths, and Misperceptions
Comparison of adaptive pacing therapy, cognitive behaviour therapy, graded exercise therapy, and specialist medical care for chronic fatigue syndrome (PACE)_ a randomised trial
Cognitive-behavioral therapy and graded exercise programs have been shown to improve fatigue and physical functioning in patients with systemic exertion intolerance disease. Approximately 70% of patients with SEID meet criteria for depression, anxiety, or dysthymia. However, this patient does not meet the current DSM-5 criteria for either depression or anxiety. In short-term (4-week) studies, methylphenidate did improve fatigue in 30% of patients with SEID, although long-term effectiveness and potential adverse effects associated with long-term use are unknown.
Prescribing exercise interventions for patients with chronic conditions
Exercise therapy for chronic pain.
Exercise therapy for chronic pain retraining mind & brain
Adaptation of the World Health Organization's Selected Practice Recommendations for Contraceptive Use for the United States.
Failure of researchers, reviewers, editors, and the media to understand flaws in cancer screening studies Application to an article in Cancer  << —  The apparent benefits of early diagnosis and intervention on screen-detected cases compared with cases detected by disease symptoms and signs are almost always more favorable than the true effects seen when the outcomes of an overall screened population are compared with an overall population that is not screened for the disease.  Because indolent disease has a longer latent period than more aggressive forms of disease (which are more likely to be detected with onset of symptoms), indolent disease is more likely to be detected by screening. Length-time bias occurs when there is overrepresentation of indolent (low-grade) disease in the screen-detected cohort and overrepresentation of aggressive disease in the symptom-detected (non-screened) cohort, as was the case in this hypothetical study. This makes the screen-detected cohort, with more indolent disease, falsely appear to have a better prognosis than the patients who present with symptoms and signs in the non-screened cohort. A drastic type of length-time bias is termed overdiagnosis and occurs when a disease that is so indolent that it would not otherwise have been clinically significant during a patient's lifespan is detected through screening.
Contamination bias occurs when the control group is unintentionally exposed to the intervention, which biases the estimate toward the null hypothesis. Contamination bias was unlikely in this case as there was little crossover between groups. Observer bias occurs when knowledge of the hypothesis or intervention received influences data recording, which would not be expected to be an influence in this study in which the researchers were blinded. Selection bias refers to systematic error in a study resulting from the manner in which the subjects are selected for the study. It can influence the results when the characteristics of the subjects selected for a study differ systematically from those in the target population or when the study and comparison groups are selected from different populations. An example is volunteer bias, in which patients who seek participation in a screening study are often healthier than those who do not undergo screening. Because the patients in this study were randomly selected from the general population, this would not be a likely cause of significant bias.
Prepatellar and olecranon bursitis literature review and development of a treatment algorithm
Patients with chronic endocrine disease.  Empiric intravenous hydrocortisone is reasonable for patients with primary adrenal insufficiency or for those on high doses of glucocorticoids (equivalent of prednisone ≥10 mg/d) who are undergoing higher risk surgeries. In those circumstances, intravenous hydrocortisone, 50 to 100 mg, is administered shortly before anesthesia induction and then continued every 8 hours for up to 48 hours after surgery. For patients taking low doses of prednisone (<10 mg/d), stress dosing of glucocorticoids typically is not required, even before high-risk surgical procedures (such as intrathoracic surgery). Instead, patients should take their usual glucocorticoid dose on the morning of surgery.
Competency and the Capacity to Make Treatment Decisions A Primer for Primary Care Physicians.
Informed consent includes a discussion of the information that a reasonable patient would want to know about his or her illness (proposed diagnostic and treatment plans, the risks and benefits of the proposed plans, and any alternatives), an assessment of patient understanding, and the acceptance or refusal of the treatment. The patient must have decision-making capacity and make each decision of his or her own free will for consent to be considered valid. A patient (for example, one with mild dementia) may have the capacity to make some decisions but not other more complex ones. The graver the consequences of the decision, the greater the capacity required. Decision-making capacity exists when a patient demonstrates an ability to understand relevant information, appreciate the situation and its possible consequences, manipulate information rationally, and make a reasoned choice. Despite this patient's mild dementia, he fulfills these standards and therefore has the capacity to make a decision regarding the procedure. Decision-making capacity exists when a patient demonstrates an ability to understand relevant information, appreciate the situation and its possible consequences, manipulate information rationally, and make a reasoned choice.
Informed consent and the ethical management of the older patient.
Patients' refusal of recommended treatment
Diagnosis and management of epididymitis.
Acute Scrotal Pain in Pediatric Emergency Medicine Assessment, Diagnosis, Management, and Treatment
Diagnosis and Management of Testicular Torsion, Torsion of the Appendix Testis, and Epididymitis
Critical Urologic Skills and Procedures in the Emergency Department
Chronic orchialgia_ Review of treatments old and new
Chronic orchialgia evaluation and discussion of treatment options.
Nonsurgical Management of Urinary Incontinence in Women- A Clinical Practice Guideline From the American College of Physicians
Review Drugs for urgency urinary incontinence improve continence in women
Dutasteride, fesoterodine, and finasteride are beneficial for lower urinary tract symptoms in older patients
Perfume making – a random link
Screening for Cervical Cancer U.S. Preventive Services Task Force Recommendation Statement  Women aged 21 to 65 years should be screened for cervical cancer every 3 years with cytology (Pap smear). Performing screening more frequently adds little benefit while significantly increasing harms. Harms can include evaluation and treatment of transient lesions as well as false-positive screening results, which may lead to unnecessary colposcopies and emotional distress. Screening for cervical cancer is not recommended in women younger than 21 years, women age 65 years and older who are not at high risk and have had adequate prior Pap smears, and women who have had a hysterectomy with removal of the cervix with no previous history of a precancerous lesion. Women aged 21 to 65 years should be screened for cervical cancer every 3 years with cytology (Pap smear); in women aged 30 to 65 years who want to lengthen the screening interval, a combination of cytology and human papillomavirus testing can be performed every 5 years.
Patient Satisfaction and Its Relationship With Clinical Quality and Inpatient Mortality in Acute Myocardial Infarction
Managing patient expectations at emergency department triage
Proportional Distribution of Patient Satisfaction Scores by Clinical Service
Strong evidence indicates that statins are effective in both primary and secondary prevention of atherosclerotic cardiovascular disease (ASCVD). According to the American College of Cardiology/American Heart Association guidelines, this patient with diabetes and no clinical ASCVD meets the criteria for one of four patient groups that have been shown to benefit from the treatment of hyperlipidemia with statin therapy. For patients 40 to 75 years of age with diabetes mellitus and an LDL cholesterol level of 70 to 189 mg/dL (1.8-4.90 mmol/L), intensity of statin therapy is dictated by the estimated 10-year risk for ASCVD as determined by the Pooled Cohort Equations. High-intensity statin therapy (for example, atorvastatin, 40-80 mg/d, or rosuvastatin, 20-40 mg/d) is recommended for all patients with a 10-year ASCVD risk of 7.5% or higher, and moderate-intensity therapy is indicated for patients with a risk of less than 7.5%. This patient's 10-year ASCVD risk exceeds 7.5%; therefore, high-intensity therapy is recommended. In adults 40 to 75 years of age with diabetes mellitus, an LDL cholesterol level of 70 to 189 mg/dL (1.8-4.90 mmol/L), and an estimated 10-year atherosclerotic cardiovascular disease risk of 7.5% or higher, high-intensity statin therapy is recommended.Significant reductions in cardiovascular events have not been clearly demonstrated with fibrate monotherapy, rendering gemfibrozil an inferior choice for this patient with elevated risk for clinical ASCVD. Fibrates are indicated for patients with triglyceride levels greater than 500 mg/dL (5.65 mmol/L), patients with hypertriglyceridemia-induced pancreatitis, and patients who have an inadequate response to statin therapy. Moderate-intensity statin therapy (for example, simvastatin, 20-40 mg/d; atorvastatin, 10-20 mg/d; or rosuvastatin, 5-10 mg/d) is not appropriate for this patient with diabetes, elevated 10-year risk for ASCVD, other cardiovascular risk factors (family history of premature cardiovascular disease), and no contraindications to high-intensity therapy. Moderate-intensity statin therapy is an acceptable alternative to high-intensity therapy in patients who tolerate statins poorly or have risk factors for statin-associated adverse effects (impaired kidney or liver function, history of muscle disorders, use of drugs affecting statin metabolism [calcium channel blockers, fibrates, protease inhibitors, amiodarone, macrolide antibiotics], and age greater than 75 years). Because none of these factors are present in this patient, high-intensity statin therapy would be the optimal therapeutic approach given his risk profile.  2013 ACC AHA Guideline on the Treatment of Blood Cholesterol to Reduce Atherosclerotic Cardiovascular Risk in Adults and Recent Update to the US Cholesterol Treatment Guidelines
Statin Therapy and the Risk of Intracerebral Hemorrhage
http://tools.acc.org/ASCVD-Risk-Estimator/ http://tools.acc.org/ASCVD-Risk-Estimator/
Risk assessment for atherosclerotic cardiovascular disease (ASCVD) has traditionally been with the Framingham risk score, although the American College of Cardiology/American Heart Association Pooled Cohort Equations, a new method for assessment that includes additional variables for risk stratification, is increasingly being used. With this method, a 10-year risk of ASCVD of less than 5% is considered low risk, 5% to below 7.5% is considered intermediate risk, and 7.5% and above is designated as high risk. This patient has a calculated 10-year risk of 3.2%, making him at low risk for ASCVD. Therefore, no additional testing is indicated at present. Patients at low risk for cardiovascular disease do not benefit from aggressive risk factor modification and therefore would not benefit from screening using nontraditional risk factors, such as coronary artery calcium scoring. The U.S. Preventive Services Task Force (USPSTF) concludes that there is insufficient evidence to assess the balance of benefits and harms for using nontraditional risk factors to screen asymptomatic, intermediate-risk patients without a history of coronary heart disease. Nontraditional risk factors include ankle-brachial index, CT to assess coronary artery calcification, high-sensitivity C-reactive protein, carotid intima-media thickness, homocysteine, and lipoprotein(a) level. Furthermore, the Society of Cardiovascular Computed Tomography, through the Choosing Wisely campaign, advises against ordering coronary artery calcium scoring for screening purposes in asymptomatic individuals who are at low risk for cardiovascular disease except for those with a family history of premature coronary artery disease. The USPSTF and the American College of Physicians recommend against resting or exercise electrocardiography (ECG) for cardiovascular disease screening in asymptomatic adults who are at low risk for cardiovascular events. This patient is asymptomatic and is at low risk for cardiovascular disease; therefore, resting and exercise ECG are not indicated. For individuals at intermediate risk for cardiovascular disease, the USPSTF concludes that there is insufficient evidence to assess the balance of benefits and harms for screening with resting or exercise ECG.
Screening Asymptomatic Adults for Coronary Heart Disease With Resting or Exercise Electrocardiography
Behavioral Counseling to Promote a Healthy Lifestyle for Cardiovascular Disease Prevention in Persons With Cardiovascular Risk Factors
Summary of the Updated American Geriatrics Society British Geriatrics Society Clinical Practice Guideline for Prevention of Falls in Older Person  Vitamin D should be prescribed for this older patient with a high risk for falls. Vitamin D has neuromuscular benefits beyond its role in bone health. Several randomized controlled trials and meta-analyses have shown vitamin D supplementation to significantly decrease the risk for falls in older community-dwelling adults, even in those with normal vitamin D levels. The mechanism of vitamin D supplementation in preventing falls is unclear, although changes in bone mineral density and muscle function have been proposed as contributing factors. With an excellent safety profile, low cost, and a number needed to treat of 15, vitamin D supplementation is an underutilized therapy for fall prevention. The American Geriatrics Society recommends 800 units daily for this purpose.
Although anticipatory grief may be common at the end of life, depression is never normal in dying patients. However, it can be very challenging to differentiate normal grief from depression in terminally ill patients. Validated depression screening tools, such as the PHQ-9, rely heavily on the presence of symptoms associated with functions necessary to maintain life (historically termed vegetative symptoms) such as changes in appetite, sleep, and energy level, which are common and expected in patients with advanced illness. This makes these instruments more difficult to interpret when assessing for depression. Many patients with terminal illness, such as this one, verbalize thoughts of death or express a desire for hastened death. Persistent, pervasive thoughts of suicide, which are not seen in this patient, are not normal and should be addressed promptly and aggressively when present. Guilt or self-blame is unique to depression and not seen in normal grief. Other symptoms unique to depression include hopelessness, helplessness, and worthlessness. When differentiating depression from grief, it is important to assess for these symptoms, as depression is highly treatable even in terminally ill patients. In a terminally ill patient, feelings of guilt, hopelessness, helplessness, and worthlessness may distinguish depression from anticipatory grief. Anticipatory grief occurs in patients and loved ones as they mourn the many losses leading up to an expected death. Such grief is waxing and waning in nature, with periods of sadness interspersed with periods of joy. Grieving that lasts for more than 12 months (6 months in children); is associated with persistent yearning, sorrow, or preoccupation with the deceased; disrupts normal function or social relationships; and is out of proportion to cultural norms is considered pathologic and is termed persistent complex bereavement disorder, formerly complicated grief disorder. Persistent complex bereavement disorder occurs in loved ones after a death, not in the patient who is dying.
Management of erectile dysfunction.
A repeat testosterone level is appropriate for this older patient with fatigue, weakness, and erectile dysfunction (ED). Men with specific signs and symptoms of androgen deficiency should be evaluated by measuring morning total testosterone level as the initial diagnostic test. Men with low or low-normal testosterone levels should have confirmatory testing before initiating testosterone therapy, and further evaluation of the cause of hypogonadism should be pursued before treatment is started, if indicated. If the repeat serum total testosterone level is more equivocal (200-350 ng/dL [6.9-12.1 nmol/L]) or if a sex hormone–binding globulin abnormality is likely in the patient being evaluated, a serum free testosterone level by equilibrium dialysis or a calculated serum free testosterone level can determine whether hypogonadism is truly present. When hypogonadism is confirmed, the next step is to determine whether the patient has primary or secondary hypogonadism by measuring the luteinizing hormone (LH) and follicle-stimulating hormone (FSH) levels. Primary hypogonadism is indicated by supranormal LH and FSH levels. If secondary hypogonadism is confirmed by inappropriately normal or low LH and FSH levels, measurement of the serum prolactin level to evaluate for hyperprolactinemia and iron saturation level (transferrin saturation and ferritin levels) to exclude hemochromatosis should be performed to assess for the possible cause. In addition, the presence of any additional pituitary hormone deficiencies should be assessed.An MRI of the pituitary gland should be ordered to exclude hypothalamic or pituitary masses as the cause of decreased gonadotropin production and secretion if any symptoms consistent with mass effect are present, including headaches, visual field changes, a serum total testosterone level less than 150 ng/dL (5.2 nmol/L), an increased prolactin level, or any additional pituitary hormonal deficiencies.Testosterone replacement in older men should be given only in the setting of hypogonadism that is based on symptoms (such as decreased libido and generalized muscle weakness) and morning serum total testosterone levels lower than 200 ng/dL (6.9 nmol/L) on at least two separate occasions. Therefore, this patient needs confirmation on repeat testing before considering testosterone replacement therapy.
Perioperative Beta Blockade in Noncardiac Surgery A Systematic Review for the 2014 ACC AHA Guideline on Perioperative Cardiovascular Evaluation and Management  Perioperative β-blockade should be continued uninterrupted in patients who are already taking a β-blocker. Withdrawal of β-blockade in the perioperative setting may cause tachycardia and increased myocardial oxygen demand. The ACC and AHA recommend that for patients currently taking a statin and scheduled for noncardiac surgery, the statin should be continued. This recommendation is based on several systematic reviews that found an association between perioperative statin use and a reduction in postoperative acute coronary syndrome and mortality.
Does This Patient Have a Torn Meniscus or Ligament of the Knee
The Importance of Cognitive Errors in Diagnosis and Strategies to Minimize Them
Anchoring is a diagnostic cognitive error that results from locking onto features of a patient's initial presentation despite the appearance of new clinical information. Confirmation bias involves using or interpreting information (for example, diagnostic studies) in a way that confirms a current hypothesis. This cognitive error results from the tendency to look for evidence that confirms a suspected diagnosis rather than considering evidence that refutes that diagnosis and may lead to another diagnostic option. Framing bias is a form of cognitive error that occurs when the way clinical information is presented, or "framed," affects decisions based on that information. An example is the perception of increased effectiveness of a specific therapy when the benefit of treatment is reported in relative instead of absolute terms, since relative benefits frequently appear larger than absolute benefits. Similarly, clinical decisions based on cardiovascular risk may differ if the assessed risk is based on an annual event rate compared with a cumulative 10-year risk.Triage cueing occurs when the manner in which triage decisions are made influences the evaluation and diagnosis (for example, when a patient with chest pain is admitted to a cardiology service and receives an extensive evaluation for myocardial infarction rather than an evaluation for gastroesophageal reflux)
Developing checklists to prevent diagnostic error in Emergency Room settings.
Fallacious Reasoning and Complexity as Root Causes of Clinical Inertia
Understanding Diagnostic Error
Heuristic reasoning and cognitive biases
The role of patient involvement in the diagnostic process in internal medicine A cognitive approach
Common Sense Is Not So Common (What We All Need to Remember) – Part Two
Overconfidence as a cause of diagnostic error in medicine.
Diagnostic error and clinical reasoning
IDSA Clinical Practice Guideline for Acute Bacterial Rhinosinusitis in Children and Adults  Intranasal glucocorticoids, antihistamines, and topical decongestants are all appropriate for initial treatment of acute sinusitis; antibiotics should not be used initially.Antibiotics should be reserved for patients with persistent and severe symptoms (such as high fever and marked facial pain), progressively worsening symptoms, or failure to improve after 10 days of supportive care. If antibiotics are indicated, both amoxicillin-clavulanate and doxycycline would be appropriate first-line agents.
Current recommendations what is the clinician to do – hot flashes
The absolute risks associated with hormone therapy use in healthy women younger than 60 years are low, as are the risks of adverse cardiovascular events if time since menopause is less than 10 years. Estradiol can be administered orally or transdermally in gel, patch, or spray; progestin is needed to prevent endometrial proliferation in this patient with an intact uterus.Because treatment duration greater than 5 years is associated with increased breast cancer risk, the need for treatment should be reassessed annually.Low-dose selective serotonin reuptake inhibitors (SSRIs) such as paroxetine have been shown to alleviate vasomotor symptoms.
Basics of quality improvement in health care.
Root cause analysis is used to discover the factors contributing to an identified problem and involves capturing information from all stakeholders involved, such as by asking each involved individual why he or she believes the problem may be occurring. However, this potentially large amount of information needs to be organized in a logical manner to enable meaningful conclusions to be drawn in order to address the problem. A cause-and-effect diagram is used to organize the root causes of a problem; the problem, or system process, forms the backbone of the diagram, and root causes are branched off (like ribs of a fish)
A control chart is used in quality improvement to graphically display variation in a process over time and can help determine if variation is from a predictable or an unpredictable cause. Additionally, control charts can be used to determine if an intervention has resulted in a positive change. For example, the rate of medication errors could be tracked before and after the initiation of a computer physician order system to determine if the system has had an impact on reducing errors. A Pareto chart is another method for organizing root causes by displaying them on a graph in descending order of frequency. Unlike a fishbone diagram that is used to identify potential causative factors of a problem and the potential relationship between different variables, Pareto charts are more helpful in focusing improvement initiatives on the most common root causes of a problem. Spaghetti diagrams are used to visually display flow through a system. The flows are drawn as lines on a map and look similar to spaghetti noodles. For example, a spaghetti diagram may be used to follow a medication order through a hospital unit from order generation to administration of the medication. The diagram can help highlight inefficiencies or redundancies in a system.
2014 ACC AHA Guideline on Perioperative Cardiovascular Evaluation and Management of Patients Undergoing Noncardiac Surgery
Revised cardiac risk calculator
Noninvasive pharmacologic cardiac stress testing is not appropriate for an asymptomatic patient with low risk of cardiac complications. Such testing is both low yield and prone to false-positive results. Instead, cardiac stress testing may be considered in patients with elevated cardiac risk and poor or indeterminate functional capacity if the results will alter perioperative management. Resting echocardiography is useful for evaluating structural heart disease (such as valvular disease or cardiomyopathy). It is not an appropriate modality for coronary artery disease assessment.
Guidelines for the diagnosis and management of syncope
Guideline on Perioperative Cardiovascular Evaluation and Management of Patients Undergoing Noncardiac Surgery  The American College of Cardiology and American Heart Association (ACC/AHA) guideline recommends an optimal delay of elective noncardiac surgery for a minimum of 12 months after placement of a drug-eluting stent (DES) due to the increased risk of cardiovascular complications, regardless of the type of antiplatelet therapy. Although some data suggest 6 months may be sufficient for normalization of risk, the ACC/AHA still advises delaying elective surgery for 12 months after DES placement. The ACC/AHA guideline states that between 6 and 12 months after DES placement, noncardiac surgery can be considered if the benefits outweigh the risks.  The American College of Chest Physicians advises that patients on aspirin who are at moderate to high risk for cardiovascular events should remain on aspirin throughout surgery. Those at moderate to high cardiovascular risk include patients with ischemic heart disease, heart failure, diabetes mellitus, prior stroke, kidney disease, or undergoing vascular procedures.
Clinical practice. Panic disorder.
Buspirone is effective in treating generalized anxiety disorder, but not panic disorder. Various forms of pharmacologic treatment for panic disorder are available: SSRIs, serotonin-norepinephrine reuptake inhibitors (SNRIs), benzodiazepines, tricyclic antidepressants, and monoamine oxidase inhibitors. SSRIs, SNRIs, benzodiazepines, and tricyclic antidepressants are equally effective in treating anxiety and reducing frequency of panic attacks. However, SSRIs are the mainstay of pharmacologic treatment for panic disorder because of side effects associated with the other drug classes.
U.S. Selected Practice Recommendations for Contraceptive Use, 2013
TiTrATE A Novel, Evidence-Based Approach to Diagnosing Acute Dizziness and Vertigo.
Antibiotics for the common cold and acute purulent rhinitis
Rotator Cuff Tear Arthropathy Evaluation, Diagnosis, and Treatment
Treating Depression After Initial Treatment Failure  Patients refractory to full-dose antidepressant monotherapy within 6 weeks may respond to a change in therapy, which may include replacement with another antidepressant, either from the same or a different class, or the addition of a second antidepressant. Patients who do not respond to full-dose antidepressant monotherapy for 6 weeks may respond to the addition of an antipsychotic drug. The FDA has approved the following combinations of antidepressant and antipsychotic drugs for the treatment of depression: aripiprazole or quetiapine extended-release added to any antidepressant, and olanzapine added to fluoxetine. In a recent meta-analysis, pharmacotherapy combined with psychotherapy was more effective than pharmacotherapy alone in the treatment of depression.
Professionalism in the Digital Age
Screening versus routine practice in detection of atrial fibrillation in patients aged 65 or over
Sexually Transmitted Diseases Treatment Guidelines, 2015
A practical ABCDE approach to the metabolic syndrome.
According to the International Diabetes Federation and the American Heart Association (AHA), diagnosis of metabolic syndrome is made by the presence of three or more of the following five criteria: (1) increased waist circumference; (2) serum triglyceride level of 150 mg/dL (1.70 mmol/L) or higher (or taking medications for hypertriglyceridemia); (3) HDL cholesterol level lower than 40 mg/dL (1.04 mmol/L) in men and lower than 50 mg/dL (1.30 mmol/L) in women (or taking medication specifically for low HDL cholesterol); (4) blood pressure of 130/85 mm Hg or higher (or taking antihypertensive medications); and (5) fasting plasma glucose level of 100 mg/dL (5.6 mmol/L) or higher (or taking medications for hyperglycemia).Patients with metabolic syndrome who have a 10-year cardiovascular risk of 10% or higher should be treated with low-dose aspirin for primary prevention of cardiovascular disease. The blood pressure goal for patients younger than 60 years is a systolic pressure of less than 140 mm Hg and a diastolic pressure of less than 90 mm Hg. Guideline on the Treatment of Blood Cholesterol to Reduce Atherosclerotic Cardiovascular Risk in Adults AND 2014 Evidence-Based Guideline for the Management of High Blood Pressure in Adults.
Management of Menopausal Symptoms
Management of Menopausal Symptoms B
Current evidence does not support the use of progestin alone to treat vasomotor symptoms. Although progestins may improve vasomotor symptoms, safety data for progestin alone are lacking.  The risk of breast cancer was increased in the estrogen and medroxprogesterone acetate arm, but not in the estrogen-alone arm, raising concern that the risk of breast cancer may be related to progestin use. There is some evidence that transdermal estrogen may be associated with less thromboembolic risk than oral estrogen by avoiding the hepatic first-pass effect. All formulations are equally effective for treating vasomotor symptoms.
Preconception care and reproductive planning in primary care. Statins, ACE inhibitors, and angiotensin receptor blockers are teratogenic and should be discontinued in women planning pregnancy.  Evidence suggests that metformin and sulfonylureas are acceptable during pregnancy.  Some selective serotonin reuptake inhibitors (SSRIs), including sertraline and fluoxetine, are FDA pregnancy category C (no definitive studies in pregnant women but evidence of potential harm in animal reproduction studies, although potential benefits may warrant use despite potential risks), and their use must be determined on an individual basis.
Guideline for the Management of Overweight and Obesity in Adults
According to the American College of Cardiology, American Heart Association, and The Obesity Society, all overweight and obese patients should be offered a comprehensive lifestyle intervention (comprised of diet, physical activity, and behavioral treatments) for weight loss. Behavioral therapy includes providing patients with strategies to facilitate a shift from personal maladaptive eating patterns toward healthful eating and exercise, particularly in this patient who acknowledges eating to reduce stress and suboptimal dietary choices. Such strategies are associated with weight loss and reduced risk for developing diabetes mellitus and hypertension. Although best conducted by a trained therapist, behavioral therapy can be initiated by internists. Specifically, internists can emphasize the behavioral therapy components of self-monitoring, stimulus control, goal setting, and social support. .Bariatric surgery, such as laparoscopic adjustable gastric banding, should be considered in all patients with a BMI of 40 or higher and in patients with a BMI of 35 or higher with obesity-related comorbid conditions. Pharmacologic agents, such as orlistat or phentermine, are used along with diet, physical activity, and behavioral treatments in patients with a BMI of 30 or higher or in patients with a BMI of 27 or higher with overweight- or obesity-associated comorbidities. This patient does not currently meet the criteria for pharmacologic therapy.
Illness progression in chronic fatigue syndrome
Somatic symptom disorder an important change in DSM. 
These criteria include having at least one somatic symptom causing distress or interference with daily life; excessive thoughts, feelings, and behaviors related to the somatic symptoms; and persistence of somatic symptoms for at least 6 months. Furthermore, potential medical causes must be excluded.Diagnostic criteria for somatic symptom disorder include having at least one somatic symptom causing distress or interference with daily life; excessive thoughts, feelings, and behaviors related to the somatic symptoms; and persistence of somatic symptoms for at least 6 months.Illness anxiety disorder (formerly known as hypochondriasis) is characterized by excessive concern over general health and is associated with undue focus on health-related activities. However, unlike this patient with debilitating somatic symptoms, patients with illness anxiety disorder have minimal or no somatic symptoms.Patients with factitious disorder deliberately falsify symptoms or inflict injury upon themselves or another. Although patients with factitious disorder may have no apparent external benefit for their fabricated illness.
Assessment and Management of Chronic Pain
Risk Assessment, Genetic Counseling, and Genetic Testing for BRCA-Related Cancer in Women
Family history attributes that suggest an increased likelihood of the presence of a BRCA gene mutation include multiple family members with breast cancer, the presence of both breast and ovarian cancer, breast cancer diagnosis before the age of 50 years, breast cancer in one or more male family members, bilateral breast cancer, and Ashkenazi Jewish heritage.
Summary of the Updated American Geriatrics Society British Geriatrics Society Clinical Practice Guideline for Prevention of Falls in Older Persons   Risk factors for falling are myriad and include lower extremity weakness, history of falls, gait or balance deficits, polypharmacy, low vitamin D level, visual impairments, and cognitive impairment.
Prevention and Control of Seasonal Influenza with Vaccines Recombinant influenza vaccine (RIV) is produced using recombinant DNA technology, does not contain egg proteins, and can be used in patients with severe egg allergy (such as those who experience anaphylaxis). Skin testing (either prick or intradermal) with influenza vaccine before vaccine administration is not recommended for patients with egg allergy because the presence of a positive skin test is not predictive of a subsequent systemic reaction. Live attenuated influenza vaccine (LAIV) also contains only a small amount of egg protein; however, it is only approved to be administered to immunocompetent adults aged 49 years and younger without a history of any egg allergies.
Prevention and Control of Seasonal Influenza with Vaccines
Pharmacological interventions for smoking cessation
Varenicline was also found to be more effective than the nicotine patch (OR, 1.51; 95% CI, 1.22-1.87) and nicotine gum (OR, 1.72; 95% CI, 1.38-2.13), and the nicotine inhaler, spray, tablets, or lozenges (OR, 1.42; 95% CI, 1.12-1.79) all used as single agents. Varenicline was not more effective than combination nicotine replacement therapy (OR, 1.06; 95% CI, 0.75-1.48) such as the combination of a rapid-onset nicotine replacement product (for example, nicotine spray or inhaler) with a long-duration nicotine replacement product (for example, a nicotine patch). Varenicline is more effective than bupropion (OR, 1.59; 95% CI, 1.29-1.96). Additionally, there is also concern that bupropion can lower seizure threshold and thus would not be the best option for this patient who has a history of seizures.
The up-rise in e-cigarette use – friend or foe  A recent Cochrane meta-analysis showed that varenicline increased the odds of quitting smoking compared with placebo (OR, 2.88; 95% CI, 2.40-3.47).
The symptoms of AVS may mimic vestibular neuronitis; however, in this older patient with vascular disease, diplopia, gait instability, and immediate nystagmus with the Dix-Hallpike maneuver, a central cause of vertigo must first be ruled out. AVS (acute vestiblar syndrome)  is characterized by prolonged vertigo of acute onset, spontaneous nystagmus, postural instability, and autonomic symptoms.
American College of Physicians Ethics Manual
In the case of a patient who lacks decision-making capacity, a surrogate must guide decision making. If such a patient has an advance directive, the person named in that advance directive is the most appropriate (and legal) surrogate. If the patient's advance directive does not name a surrogate, or if the patient does not have an advance directive, the best surrogate is the person who best knows the patient's health care values, goals, and preferences ethical and legal obligations to make decisions based on their father's health care–related values, goals, and preferences (that is, substituted judgment).
Breast density and breast cancer risk a practical review.  MRI is not recommended for either primary screening or as a supplemental test for women with increased breast density due to a lack of documented effectiveness and a high false-positive rate leading to unnecessary biopsies.  High breast density, categorized as either heterogeneously dense breast tissue or extremely dense breast tissue (using the Breast Imaging Reporting and Data System [BI-RADS] breast density categories) on mammography, imparts an increased risk of breast cancer (relative risk [RR] of 1.2 for heterogeneously dense breast tissue, RR of 2.1 for extremely dense breast tissue). There is evidence that digital mammography has an increased sensitivity for detecting small lesions in dense breasts compared with film mammography.
Edema Diagnosis and Management
Operative debridement of pressure ulcers.
Comparative effi cacy and tolerability of 15 antipsychotic drugs
Management of symptomatic vulvovaginal atrophy
Palliative Care  Morphine is contraindicated in the setting of significant kidney failure (estimated glomerular filtration rate <30 mL/min/1.73 m2), even at the end of life, due to the accumulation of toxic metabolites that may cause neurotoxicity with symptoms of delirium, myoclonus, and seizure. Hydromorphone is a very effective pain medication. It is preferred over morphine in the setting of kidney failure because it is metabolized primarily by the liver and is less likely to lead to the accumulation of potentially toxic metabolites.
 Direct-to-Consumer Personal Genome Testing and Cancer Risk Prediction
This form of testing relies on a case-control–based approach. Single-nucleotide polymorphisms (SNPs) that are disproportionately found in affected individuals with a specific disease are identified, and odds ratios indicating the influence of particular SNPs on the pretest likelihood for the disease are calculated. Unfortunately, most SNPs have very low odds ratios and contribute only a small proportion to total disease burden.Therefore, a positive result with this type of testing frequently does not indicate an increased probability of having the disease but may cause unnecessary patient concern and anxiety. Breast self-examination has not been shown to be a reliable method for detection of breast cancer in average-risk women or in those at increased risk, and the USPSTF advises against its use for screening.
Head-up tilt testing for diagnosing vasovagal syncope_ a meta-analysis – PubMed Health
Tilt-table testing is helpful in evaluating reflex syncope triggered by standing, unexplained episodes of syncope in a high-risk setting, recurrent episodes of syncope in the absence of organic heart disease, or recurrent episodes of syncope in the presence of heart disease when cardiac causes are excluded. The American College of Physicians and other groups do not recommend brain imaging, either with CT or MRI, in the setting of witnessed syncope without seizure activity or other neurologic symptoms because the likelihood of a central nervous system cause of the syncope is extremely low and patient outcomes are not improved with further neurologic testing. Echocardiography is recommended in the evaluation of syncope if structural heart disease is suspected.
The DSM-5 diagnostic criteria for GAD are as follows: 1) excessive anxiety or worry about a number of events or activities (for example, school or work) occurring more days than not for at least 6 months; 2) the patient recognizes it is difficult to control the worry; 3) the anxiety or worry is associated with at least three of the following symptoms: restlessness, easy fatigability, difficulty concentrating, irritability, muscle tension, and sleep disturbance; 4) the anxiety, worry, or symptoms cause impairment at school, work, or other settings and cannot be attributable to medical or other psychiatric conditions, medications, or substance use. The Generalized Anxiety Disorder 7 (GAD-7) assessment tool that rates seven items on a scale of 0 to 3 based on increasing severity. A score of 5 to 9 indicates mild anxiety, 10 to 14 moderate anxiety, and 15 to 21 severe anxiety. Cognitive-behavioral therapy is the most effective psychotherapy for GAD and in trials has been shown to be as effective as medications.
Advisory Committee on Immunization Practices Recommended Immunization Schedule for Adults Aged 19 Years or Older — United States, 2015
When a vaccine series is interrupted, the most appropriate approach is to resume rather than restart the series, as development of immunity is progressive and giving doses at longer-than-recommended intervals does not usually decrease the final immunologic response.
Bacterial infections in cirrhosis A critical review and practical guidance
Prepatellar and olecranon bursitis
Medically unexplained symptoms.
Cognitive-behavioral therapy that consists of 1) educating the patient so he or she understands the symptoms, 2) obtaining a commitment from the patient to assume responsibility for his or her improvement, 3) facilitating realistic goals, and 4) negotiating a treatment plan can be helpful in the office setting. A systematic review of 34 randomized controlled trials demonstrated that, in most studies, cognitive-behavioral therapy was effective in treating patients with MUS.
Syncope Classification and risk stratification
Orthostatic syncope is associated with a decline of 20 mm Hg or more in systolic blood pressure (or ≥10 mm Hg drop in diastolic blood pressure) within 3 minutes of standing. Orthostatic syncope may occur as a result of primary autonomic failure, secondary autonomic failure (due to diabetes mellitus, amyloidosis, spinal cord injuries, or Parkinson disease), hypovolemia, medications (vasodilators, diuretics), or age-associated changes in blood pressure regulation.
HIV Prevention in Clinical Care Settings   The currently recommended method for initial testing is a combination immunoassay that detects both HIV antibody and p24 antigen, a viral capsid protein that is elevated early in infection. This test replaces the previously used highly sensitive enzyme-linked immunosorbent assay (ELISA) for antibodies directed toward HIV. It is estimated that approximately 25% of persons with HIV infection are unaware of their diagnosis. Initiating antiretroviral therapy in asymptomatic patients compared with those who present clinically is associated with reduced risk for AIDS-related death. The USPSTF strongly recommends lipid screening in women aged 45 years and older who have risk factors for coronary heart disease (diabetes mellitus, personal history of coronary heart disease or noncoronary atherosclerosis, family history of cardiovascular disease before age 50 years in male relatives or age 60 years in female relatives, tobacco use, hypertension, obesity [BMI ≥30]). Although the optimal screening interval is undetermined, it is reasonable to rescreen every 5 years, or at a shorter interval if the patient's lipid levels are approaching those that would indicate therapy. The 2013 American College of Cardiology/American Heart Association cardiovascular risk guideline indicates that it is reasonable to assess traditional risk factors (including total and HDL cholesterol levels) every 4 to 6 years in adults between the ages of 20 and 79 years who are free from atherosclerotic cardiovascular disease. The USPSTF currently recommends screening for type 2 diabetes mellitus only in asymptomatic adults with sustained blood pressure higher than 135/80 mm Hg; however, a USPSTF draft guideline from 2014 recommends screening for abnormal blood glucose level and type 2 diabetes in adults with risk factors, including age 45 years or older, obesity or overweight, first-degree relative with diabetes, history of gestational diabetes or polycystic ovary syndrome, and certain high-risk ethnic backgrounds (African Americans, American Indians/Alaska Natives, Asian Americans, Hispanics/Latinos, and Native Hawaiians/Pacific Islanders). The American Diabetes Association recommends screening for diabetes in all adults aged 45 years and older and adults younger than 45 years with a BMI of 25 or higher and one risk factor for diabetes. The optimal screening interval is unknown, although the American Diabetes Association recommends screening every 3 years. In women aged 30 to 65 years in whom cytology (Pap smear) and human papillomavirus (HPV) testing are negative, repeat testing is recommended in 5 years.
Screening for Impaired Visual Acuity in Older Adults
Anorexia, weight loss, and cachexia reflect a final common pathway during the terminal phase of most disease processes. Assuming potentially reversible conditions (nausea, altered taste, medication side effects, bowel obstruction, dysphagia, psychological comorbidities) have been ruled out, disease-related cachexia is caused by an altered neurohormonal, inflammatory milieu that results in profound alterations in metabolism. These changes lead to a decreased appetite and increased catabolism, leading to progressive weight loss. Artificial nutrition and pharmacologic agents do not improve morbidity and mortality or quality of life in cancer patients with cachexia. Cachexia cannot be significantly reversed by more aggressive or invasive methods of nutritional support, including enteral (or parenteral) nutrition, and these interventions in the context of cachexia of advanced disease do not improve morbidity or mortality. Additionally, interventions to provide artificial nutrition, such as use of a nasogastric or nasojejunal tube or placement of a percutaneous endoscopic gastrostomy tube, have some associated risk and a potential negative effect on the patient's quality of life.
Assessment and Management of Chronic Pain
Central pain results from dysregulation of sensory processing pathways within the nervous system. This dysregulation amplifies sensory input, resulting in the increased perception of pain. Central pain can be classically neuropathic, such as poststroke pain or post–spinal cord injury pain, or it can be more indistinct, such as in fibromyalgia. The pain is usually constant, with bursts of more severe pain, often exacerbated by cough, temperature changes, movement, or emotions. Central pain syndromes can also evolve out of unrelenting chronic pain when persistent stimulation of peripheral pain receptors results in the upregulation of central pain modulators. It is important to recognize patients who have pain as a result of central mechanisms, as these conditions respond particularly well to multimodal pain management, and neuromodulating medications are more effective for this type of pain than opioids. Nociceptive pain is dull, aching, or throbbing pain caused by tissue injury. It is localized to the site of the injury. Central pain varies widely in character and may affect a specific area of the body or occur more diffusely; pain is usually constant, with bursts of more severe pain, often exacerbated by cough, temperature changes, movement, or emotions.
Use of 13-Valent Pneumococcal Conjugate Vaccine and 23-Valent Pneumococcal Polysaccharide Vaccine for Adults with Immunocompromising Conditions
There are two pneumococcal vaccines: a polysaccharide vaccine composed of capsular material from 23 pneumococcal subtypes (PPSV23) and a conjugate vaccine containing capsular material from 13 pneumococcal subtypes conjugated to a nontoxic protein (PCV13), which increases its immunogenicity. When PCV13 is indicated, it should be given before PPSV23. Therefore, administration of PCV13 would be appropriate now, followed by a single dose of PPSV23 8 weeks later. Administration of a second dose of PPSV23 is recommended 5 years after administration of the first PPSV23 dose for patients aged 19 to 64 years who have functional or anatomic asplenia.  Individuals who receive PPSV23 before age 65 years should receive an additional dose of PPSV23 at age 65 years provided that at least 5 years have passed since the most recent PPSV23 administration. PCV13 and PPSV23 should not be administered together. Several large randomized, multicenter trials have shown a decreased serologic response in patients who received PCV13 after PPSV23 compared with those who received PCV13 first.
Social anxiety disorder is characterized by severe, persistent anxiety or fear of social or performance situations (public speaking, meeting unfamiliar people) lasting at least 6 months. In these situations, affected patients experience anxiety and physical symptoms such as palpitations, dyspnea, and flushing. SSRIs and the serotonin-norepinephrine reuptake inhibitor (SNRI) venlafaxine are first-line therapy for social anxiety disorder. In addition, cognitive-behavioral therapy (CBT) is very effective for social anxiety disorder. CBT, which seeks to address maladaptive beliefs, anxious feelings, and avoidance behaviors.
http://jamaevidence.mhmedical.com/?utm_campaign=JAMAEvidence_Digital&utm_medium=banner&utm_source=house&utm_term=728x90_leaderboard
AHA Guideline on Perioperative Cardiovascular Evaluation and Management of Patients Undergoing Noncardiac Surgery
(ACCP) guidelines recommend that elective noncardiac surgery is reasonable to perform in patients with asymptomatic severe aortic stenosis with appropriate intraoperative and postoperative hemodynamic monitoring (as can be determined by anesthesiology consultation). The ACC/AHA guideline recommends preoperative echocardiography for patients with moderate or worse valvular disease if it has been more than 1 year since the last study or the patient has had a change in clinical status.
Peripheral edema associated with calcium channel blockers
Risk Stratification of Patients Presenting with Syncope
Cardiac syncope is associated with a high mortality rate (1-year mortality rate of 18%-33%), whereas the risk for negative outcomes with most other causes of syncope is markedly lower. Therefore, patients with syncope of possible cardiac etiology, such as this one, should be admitted to the hospital for further monitoring and evaluation.The Risk Stratification of Syncope in the Emergency Department (ROSE) index is a validated tool that identifies specific independent predictors for severe outcomes at 1 month (myocardial infarction, life-threatening arrhythmia, pulmonary embolism, stroke, intracranial or subarachnoid hemorrhage, or pacemaker insertion). These predictors are elevated B-type natriuretic peptide concentration (≥300 pg/mL), bradycardia (≤50 beats/minute), fecal occult blood in patients with suspected gastrointestinal bleeding, anemia (hemoglobin level ≤9 g/dL [90 g/L]), chest pain, electrocardiogram with Q waves (not in lead III), and oxygen saturation less than 94% on ambient air. Other high risk factors include age greater than 65 years; abnormal ECG; history of heart failure, ischemic heart disease, or ventricular arrhythmias; or lack of warning signs or symptoms. Implantable loop recorders are best reserved for patients with unexplained recurrent syncope.
Does This Patient With Shoulder Pain Have Rotator Cuff Disease
Diagnosis and Treatment of Low Back Pain
Radiography of the lumbar spine is indicated only if fracture, degenerative arthritis, or an inflammatory process such as ankylosing spondylitis is suspected. Ankylosing spondylitis is a spondyloarthritis with systemic features that typically presents with low back pain, morning stiffness, and sacroiliitis; extra-articular manifestations may include uveitis. In patients in whom low back pain cannot be attributed to a specific disease or spinal abnormality (defined as nonspecific low back pain), the American College of Physicians and other organizations recommend against imaging or obtaining other diagnostic studies routinely. Such testing should be reserved for patients in whom a serious underlying condition is suspected, those with severe or progressive neurologic deficits, or patients who do not have symptom improvement after 4 to 6 weeks of conservative management.
The American Urological Association Symptom Index (AUA-SI) score is a validated questionnaire used to determine the severity of and to monitor LUTS. The questionnaire assesses frequency, nocturia, weak stream, hesitancy, intermittency, incomplete emptying, and urgency, with each question graded on a 5-point scale from 0 (not present) to 5 (almost always present). The total score is interpreted as follows: 1-7 (mild), 8-19 (moderate), and 20-35 (severe).Conservative measures that may help patients with mild symptoms include reducing fluid intake, timed voiding (every 3 hours while awake), limiting caffeine and alcohol, modifying medications, improving mobility, and avoiding bladder irritants.
Clinical Pearls in Men's Health
Users' Guides to the Medical Literature Evidence based medicine
Validity, or the trustworthiness of a study's results, can be threatened by many factors, including errors in sampling, measurement, and data analysis. Systematic error results from bias that influences the study findings in a certain direction. Systematic error must be addressed by eliminating sources of bias, and doing so is a primary goal of study design. Increasing the sample size and precision of measures would be effective in reducing the impact of random errors, but not systematic errors.
Bedside evaluation of dizzy patients.
vestibular neuronitis, which is manifested by acute, severe, and persistent nonpositional peripheral vertigo. Vestibular neuronitis may follow a viral upper respiratory tract infection and is thought to be caused by postviral inflammation of the vestibular portion of cranial nerve VIII. Symptoms may be severe and prolonged. Nausea and vomiting are common.  In a patient with BPPV, episodes of vertigo generally last less than 1 minute. Labyrinthitis patients exhibit hearing loss.
Vitamin, Mineral, and Multivitamin Supplements for the Primary Prevention of Cardiovascular Disease and Cancer
The episclera is a vascular fibroelastic structure superior to the sclera. Inflammation of the episclera, or episcleritis, is less commonly associated with pain or photophobia. Episcleritis is also uncommonly associated with risk for visual impairment. Scleritis is inflammation of the fibrous layers of the eye underlying the episclera and conjunctiva and overlying the choroid. Patients may present with severe, continuous, boring ocular pain that radiates to the surrounding facial areas, redness, photophobia, and tearing. It most commonly affects both eyes and is frequently worse at night,  ty. Roughly 50% of patients with scleritis have an underlying systemic disease, such as an inflammatory connective tissue disorder (rheumatoid arthritis) or infection (tuberculosis).
Borderline Personality Disorder
Features of BPD include interpersonal hypersensitivity (for example, intense and unstable relationships and intense efforts to avoid abandonment), difficulty controlling emotions such as anger, impulsive or destructive behavior (for example, spending money or promiscuous sex), recurrent suicidal gestures, and unstable self-image. BPD can be misdiagnosed as depression or bipolar disorder. About 6% of primary care patients have BPD. The mainstay of treatment for BPD is psychotherapy. Pharmacologic treatment of BPD is adjunctive to psychotherapy. There are no FDA-approved medications for personality disorders; medications are used to relieve symptoms (for example, mood stabilizers for mood swings and impulsivity).Patients with bipolar disorder report different neurovegetative symptoms than patients with BPD, such as a decreased need for sleep and waking with increased energy; they report an increase in activities but may move from one thing to another without completing tasks and may become more social or hypersexual but without indication of interpersonal loss. The patient's speech is often loud and full of jokes and puns, and he or she may be distractible, responding to irrelevant stimuli. Patients with BPD tend to behave angrily, impulsively, or self-destructively in the context of real or perceived interpersonal loss, whereas no such pattern is apparent in those with bipolar disorder.Depressed mood, anhedonia, lack of motivation, lack of energy or mood reactivity, overeating, and oversleeping are typical characteristics of a depressive disorder. BPD depressions are often characterized by feelings of emptiness; patients' mood often improves after being reunited with a "lost" partner or finding a new loved one.
The Princeton III Consensus Recommendations for the Management of Erectile Dysfunction and Cardiovascular Disease
First-line therapy for ED includes lifestyle modification (smoking cessation, exercise, and weight loss) and phosphodiesterase type 5 (PDE-5) inhibitor therapy. ED and cardiovascular disease share many risk factors (diabetes mellitus, hyperlipidemia, and hypertension), and ED is itself a cardiac risk factor that independently predicts mortality and confers a risk similar to that of moderate smoking. Patients with symptoms of ischemic heart disease should undergo exercise stress testing before initiating a PDE-5 inhibitor such as tadalafil. If stress testing demonstrates that the patient can achieve 5 to 6 metabolic equivalents without ischemia, the patient is at low risk for cardiovascular events with PDE-5 inhibitor therapy and sexual activity.
(1) persistent deficits in communication and social interaction associated with impairment in function and (2) repetitive behaviors that are inflexible and nonfunctional and interests that are often restricted. This patient's persistent problems with social communication and interaction, including difficulty with relationships and reading body language, adherence to routines, and repetitive behaviors, are consistent with this diagnosis.
Candida Infections of the Genitourinary Tract
Displacement of the retina.     Primary Retinal Detachment
Leg Discomfort beyond the joints
Spinal stenosis results from narrowing of the spinal canal, usually due to degenerative arthritis of the spine that causes mechanical compression and ischemia of the lumbosacral spine nerve roots. Clinical manifestations of spinal stenosis are progressively worsening low back discomfort and severe leg pain that tends to be minimized when the low back is flexed (leading patients to lean forward) and worsened with spinal extension (such as when standing and walking up steps).
Medically Unexplained Symptoms b
Management of Drug and Alcohol Withdrawal
Alcohol withdrawal symptoms can start within 4 hours to several days after the last drink. Alcohol activates the same receptor as γ-aminobutyric acid, which is the major inhibitory neurotransmitter in the brain, causing central nervous system depression. If ethanol has been present frequently enough in a heavy drinker to develop tolerance and dependence, sudden withdrawal creates a state of central nervous system hyperactivity, which can be life threatening. Early symptoms include agitation, tremulousness, headache, and symptoms of autonomic hyperactivity (fever, diaphoresis, tachycardia, and hypertension). As withdrawal becomes more severe, patients may experience seizures and/or hallucinations, usually within 12 to 24 hours of abstinence. Delirium tremens is a systemic syndrome characterized by hypertension, tachycardia, diaphoresis, fever, disorientation, and hallucinations. Onset is usually 48 to 96 hours after the last drink and sometimes persists for many days. Benzodiazepines are the treatment of choice for alcohol withdrawal. Thiamine, glucose, and folate are supplemented routinely, and nutrition should be instituted early. All benzodiazepines appear similarly efficacious in reducing signs and symptoms of alcohol withdrawal. Longer-acting agents, such as chlordiazepoxide, may be more effective in preventing seizures but can pose a risk for excess sedation in older adults and patients with marked liver disease, such as this patient. Short-acting benzodiazepines, such as lorazepam, are preferred to long-acting benzodiazepines in patients with liver disease because short-acting benzodiazepines cause less metabolite buildup in the liver. Clonidine and β-blockers such as propranolol have been used as an adjunctive therapy in alcohol withdrawal because they reduce withdrawal symptoms related to autonomic hyperactivity.
Psychiatric and Medical Management of Marijuana Intoxication in the Emergency Department
A physician's primer on the pulmonary effects of marijuana
TOS Guideline for the Management of Overweight and Obesity in Adults  BMI and waist circumference can be used to risk stratify patients.The American College of Physicians specifically recommends against screening asymptomatic low-risk adults for ischemic heart disease with resting or stress electrocardiography, stress echocardiography, or stress myocardial perfusion imaging. Instead, clinicians should address modifiable cardiovascular risk factors, such as obesity, smoking, hypertension, hyperlipidemia, and diabetes, and encourage healthy diet and levels of exercise.
Screening for cervical cancer can be stopped in women age 65 years and older who have had adequate prior screening, which consists of three consecutive negative Pap smears or two consecutive negative Pap smears plus HPV tests within the last 10 years. The most recent testing should be within the last 5 years. This patient meets these criteria with consistently negative Pap smear screenings, with the latest being 2 years ago. The American Cancer Society recommends that screening not continue in women over age 65 years, even in those who have a new sexual partner. Women who have had a hysterectomy with removal of the cervix for benign reasons (no history of high-grade precancerous lesions or cervical cancer) should not be screened regardless of age. This includes women who have had a hysterectomy with removal of the cervix during surgery for ovarian or endometrial cancer, as they are not considered to be at high risk for cervical cancer. In women age 65 years and older who are at high risk for cervical cancer, including immunocompromised women (such as those with HIV infection), women with in utero exposure to diethylstilbestrol (DES), and women who have had previous treatment of a high-grade precancerous lesion, screening should continue.
ACR criteria of radiology appropriateness criteria
Chronic neurogenic neck pain. Features that support this diagnosis are the quality of the pain (burning and tingling), radiation to the arms, limited range of motion of the neck, and reproduction of pain with compression of the spinal nerves via the Spurling test. The findings of normal upper extremity muscle strength, the absence of upper extremity hyperreflexia and spasticity, and her imaging results make spinal cord involvement unlikely, as does the lack of evidence of a systemic process such as malignancy. Patients with chronic neurogenic neck pain frequently do not respond to analgesics, such as acetaminophen, or anti-inflammatory medications, such as NSAIDs. However, they may respond to agents such as gabapentin and tricyclic antidepressants.
American College of Physicians Ethics Manual
For the patient who lacks decision-making capacity, the surrogate decision-maker should not make decisions based on his or her own values and preferences. Rather, the surrogate has ethical and legal obligations to make decisions that are based on the patient's health care values, goals, and preferences (the concept of substituted judgment).
Relative risk reduction, absolute risk reduction and number needed to treat
Tips for learners of evidence-based medicine 5. The effect of spectrum of disease on the performance of diagnostic tests.
Understanding confidence intervals
Confidence in statistical analysis
Systematic Reviews and Meta-Analysis
Aviation and healthcare- a comparative review with implications for patient safety
From aviation to medicine applying concepts of aviation safety to risk management in ambulatory care
The frequency and nature of medical error in primary care understanding the diversity across studies
Aviation and healthcare a comparative review with implications for patient safety
Cognitive debiasing 1 origins of bias and theory of debiasing
Cognitive debiasing 2 impediments to and strategies for change
Tips for Teachers of Evidence-based Medicine Clinical Prediction Rules (CPRs) and Estimating Pretest Probability
Toward the realization of a better aged society
Tips for learners of evidence-based medicine 3. Measures of observer variability (kappa statistic)
Tips for learners of evidence-based medicine 5. The effect of spectrum of disease on the performance of diagnostic tests
How to Read, Interpret, and Understand Evidence-Based Literature Statistics
Systematic Reviews The Good, the Bad, and the Ugly
Examining the Distribution, Modularity, and Community Structure in Article Networks for Systematic Reviews.
Tips for learners of evidence-based medicine 2. Measures of precision (confidence intervals)
Tips for learners of evidence-based medicine 4. Assessing heterogeneity of primary studies in systematic reviews and whether to combine their results
Medicines Management, Medication Errors and Adverse Medication Events in Older People Referred to a Community Nursing Service
The Law of Diminishing Returns in Clinical Medicine How Much Risk Reduction is Enough
The Changing Face of Chronic Illness Management in Primary Care A Qualitative Study of Underlying Influences and Unintended Outcomes
Number needed to treat and baseline risks
Relative risk reduction, absolute risk reduction and number needed to treat
Ketamine for Treatment of Suicidal Ideation and Reduction of Risk for Suicidal Behavior
A review of ketamine in affective disorders current evidence of clinical efficacy, limitations of use and pre-clinical evidence on proposed mechanisms of action.
Ketamine, Transcranial Magnetic Stimulation, and Depression Specific Yoga and Mindfulness Based Cognitive Therapy in Management of Treatment Resistant Depression
Arriving at the diagnosis of female sexual dysfunction.
Sexual interest/arousal disorder is characterized by the presence of at least three of the following symptoms: lack of sexual interest, lack of sexual thoughts or fantasies, decreased initiation of sexual activity or decreased responsiveness to partner's initiation attempts, reduced excitement or pleasure during sexual activity, decreased response to sexual cues, or decreased sensations during sexual activity; the presence of associated personal distress is required for diagnosis.Genitopelvic pain/penetration disorder is characterized by persistent urogenital pain associated with intercourse that is not related exclusively to inadequate lubrication or vaginismus. Physiologic conditions that may cause dyspareunia and pelvic pain include interstitial cystitis, pelvic adhesions, infection, and endometriosis. This patient's absence of sexual pain and lack of other associated symptoms and signs make this disorder unlikely. Orgasmic disorder is the persistent or recurrent delay or absence of orgasm following a normal excitement phase. In this patient, the distress is associated with a lack of interest and decreased libido, rather than lack of orgasm, so this is a less likely diagnosis. Vulvodynia is a syndrome of persistent vulvar or vestibular discomfort or burning pain, generally occurring in the absence of clinically identifiable findings. The pain is marked and chronic, but variable in terms of severity, constancy, and provocative features. Its etiology is unknown. In this patient, pain is not a symptom, so this is not a correct diagnosis.
Recommendations and Considerations Related to Preparticipation Screening for Cardiovascular Abnormalities in Competitive Athletes
Preparticipation sports evaluation, current American Heart Association guidelines consist of a 12-step clinical history and physical examination focused on cardiovascular screening. The elements of this examination include obtaining a family history for evidence of heart disease or premature death, evaluating the patient for cardiac-related symptoms (such as unexplained near-syncope/syncope or exertional dyspnea or fatigue), and performing a physical examination. Physical examination findings in patients with hypertrophic cardiomyopathy (HCM) usually include a systolic crescendo-decrescendo murmur frequently heard best at the left lower sternal border, which is due to left ventricular outflow tract obstruction. The murmur of HCM is augmented by maneuvers that decrease venous return (Valsalva) and is diminished by those that increase preload (leg elevation, hand-grip). Additional testing, with either cardiovascular imaging or electrocardiography, is not indicated in the absence of suspicious symptoms, physical findings, or family history. In the absence of suspicious symptoms, physical examination findings, or family history in a patient undergoing a preparticipation sports evaluation, additional testing with either cardiovascular imaging or electrocardiography to exclude hypertrophic cardiomyopathy is not indicated.
American Society of Interventional Pain Physicians (ASIPP) guidelines for responsible opioid prescribing in chronic non-cancer pain
Most guidelines strongly recommend employing a risk assessment tool (such as the DIRE [Diagnosis, Intractability, Risk, and Efficacy] score), baseline urine drug screening, and written treatment agreements. Guidelines also agree that adherence monitoring in the form of regular surveillance of prescription monitoring programs should be performed to reduce prescription drug abuse. Documentation of opioid side effects (cognitive impairment, sedation, constipation, falls), absence of aberrant opioid behavior (lost prescriptions, early refill requests, multiple concurrent opioid providers or "doctor shopping," consistently missed appointments, or erratic follow-up), and the patient's enduring functional improvement is recommended at every visit in order to justify the ongoing benefit of continued opioid therapy.
Guideline on Lifestyle Management to Reduce Cardiovascular Risk
Lifestyle modification is an essential element of treatment for all patients with elevated lipid parameters but is the primary therapy in those with hyperlipidemia without clinical atherosclerotic cardiovascular disease (ASCVD), diabetes mellitus, elevation of LDL cholesterol greater than 190 mg/dL (4.92 mmol/L), or elevated 10-year risk for developing ASCVD. The 2013 American Heart Association/American College of Cardiology lifestyle management guideline strongly recommends that adults who would benefit from LDL cholesterol lowering (1) consume a diet that emphasizes vegetables, fruits, and whole grains, and limits intake of sweets and red meats; (2) aim for a dietary intake of 5% to 6% of calories from saturated fat; and (3) reduce the percentage of calories from saturated fat and trans fat. Moderate-strength recommendations include performing aerobic physical activity (three to four sessions per week, with an average of 40 minutes per session, and involving moderate- to vigorous-intensity physical activity) to lower LDL cholesterol level, non-HDL cholesterol level, and blood pressure. In patients without clinical ASCVD or diabetes, statin therapy is typically reserved for those with an LDL cholesterol level of 190 mg/dL (4.92 mmol/L) or higher or an estimated 10-year risk of ASCVD of 7.5% or higher. The benefits of statin therapy in healthy patients with an LDL cholesterol level lower than 190 mg/dL (4.92 mmol/L) are not established.
Management of Antithrombotic Therapy in Patients Undergoing Invasive Procedures
Cessation of warfarin 5 days before surgery is typically sufficient to assure a normalized INR for the procedure. For patients requiring stoppage of chronic anticoagulation, the necessity of bridging anticoagulation must then be determined based on the patient's thromboembolic risk. Contemporary mechanical aortic valve prostheses have a low (<5%) annual risk of thromboembolism, and guidelines recommend no anticoagulation bridging for patients with these prostheses if they are in sinus rhythm and have no additional risk factors for arterial thromboembolism. Perioperative aspirin continuation in a patient whose only indication for antiplatelet therapy is a mechanical valve prosthesis is a matter of debate. The American College of Chest Physicians and the American College of Cardiology/American Heart Association both suggest that aspirin be continued throughout surgery in any patient in whom the antithrombotic benefits outweigh the bleeding risks. If aspirin is continued, the additional bleeding risk it confers should be factored into the decision making regarding bridging anticoagulation.For bridging-eligible patients, low-molecular-weight heparin (LMWH) is often preferred because it can be administered in the outpatient setting and does not require laboratory monitoring; however, no evidence suggests any difference in outcomes with LMWH or unfractionated heparin.Prophylactic-dose subcutaneous enoxaparin is only an acceptable choice for perioperative anticoagulation bridging in intermediate-risk (5%-10% annual rate of thromboembolism) patients on warfarin for a history of venous thromboembolism. For other chronic anticoagulation indications (atrial fibrillation and mechanical heart valves), no data are available to suggest a benefit from prophylactic-dose LMWH.
The diagnosis and management of rhinitis
upper airway cough syndrome (UACS) associated with allergic rhinitis. UACS is associated with conditions that cause excessive mucus production in the upper airways and postnasal drip, triggering cough. Allergic rhinitis is a frequent cause of UACS and is likely in this patient with evidence of seasonal allergies (clear nasal drainage, postnasal drip) and symptoms that are worse in high allergy seasons (fall and spring). Patients with UACS due to allergic rhinitis respond well to intranasal glucocorticoids, and these agents are considered first-line therapy.
Insomnia is defined as the inability to initiate or maintain adequate sleep and is a common disorder. It can lead to daytime somnolence, work absenteeism, motor vehicle accidents, poor general health, functional impairment, and impaired quality of life. The initial management of insomnia focuses on implementing good sleep hygiene, which refers to the optimization of the environmental and behavioral factors associated with sleep. Patients should be advised to establish a regular relaxing bedtime routine; associate the bed and bedroom with sleep; avoid increasingly common disruptors of sleep such as cell phone, television, or computer use in the bedroom; adhere to a stable bed time and arising time; and keep the room quiet and dark. doxepin, and mirtazapine, have sedative side effects, which can be used to advantage in a depressed patient with significant insomnia. Doxepin, in doses lower than needed for an antidepressant effect, is the only antidepressant agent approved for the treatment of insomnia.
Cerumen, or ear wax, is secreted in the lateral third aspect of the external auditory canal and serves as a protective lining against water damage and infection. Cerumen is normally progressively removed from the ear by epithelial migration and movement of the soft tissues of the lateral ear canal by normal motions such as chewing.
Stimulant laxative, such as senna. Opioid-induced constipation is nearly universal in patients on regularly scheduled opioid therapy. Unlike other side effects of opioid medications such as nausea or somnolence, tolerance to constipation does not develop over time. Therefore, all patients on scheduled opioids should be prescribed a scheduled stimulant laxative, such as senna or bisacodyl. If this therapy does not adequately control opioid-associated constipation, osmotic agents (polyethylene glycol powder, sorbitol, lactulose) can be added. Stool softeners, such as docusate, are inadequate to manage opioid-induced constipation when given alone. However, stool softeners may be given along with a stimulant laxative to further aid in preventing constipation in patients on chronic opioid therapy. Similarly, fiber supplements or other bulking agents are ineffective in managing opioid-induced constipation. Methylnaltrexone, an injectable peripheral opioid antagonist, is very effective in treating opioid-induced constipation without adversely affecting analgesia.
Perioperative Management of Antithrombotic Therapy
Current American College of Chest Physicians (ACCP) guidelines recommend the use of prophylactic-dose low-molecular-weight heparins for up to 28 days after surgery. Intermittent pneumatic compression devices do not provide sufficient VTE prophylaxis in patients who have undergone abdominal surgery and have other risk factors such as cancer. Aspirin is not an acceptable choice for VTE prophylaxis following abdominal surgery. ACCP guidelines only recommend aspirin as an option after hip or knee arthroplasty, and in that situation, it should be continued for 35 days after surgery. Data on the most effective dose of aspirin for major orthopedic surgery VTE prophylaxis are sparse.
Early Palliative Care for Patients with Metastatic Non–Small-Cell Lung Cancer
Palliative care focuses on achieving individualized goals of therapy and coordinating management of care to achieve those goals. Palliative care may be provided concurrently with life-prolonging therapies or with therapies with curative intent.  It is a common and unfortunate misconception that palliative care decreases life expectancy.Although one of the main goals of palliative care is aggressive symptom management, uncontrolled symptoms are not a requirement for palliative care involvement. Palliative care has much to offer patients outside of the domain of symptom management, including care coordination, help in establishing goals of care and navigating complex decision making, and assistance with coping.
Finding the Right Level of Posthospital Care
In older patients who require posthospital rehabilitation but cannot tolerate active, intensive therapy (3 hours per day, 5 days per week), rehabilitation services may be performed in a skilled nursing facility.
AREDS2 Perspectives, Recommendations, and Unanswered Questions
(AMD) should be treated with antioxidant vitamins and zinc, using the Age-related Eye Disease Study 2 (AREDS2) formulation. AMD is a degenerative disease of the macula that results in loss of central vision. Dry AMD is typically seen as subretinal deposits of yellowish or white extracellular material (drusen) and atrophy of the retinal pigment epithelium. Wet AMD is characterized by growth of abnormal blood vessels (neovascularization) into the subretinal space. Although dry AMD is more common, wet AMD is associated with a greater risk of vision loss. The Age-related Eye Disease Study (AREDS) found that daily high doses of vitamins C and E, β-carotene, and the minerals zinc and copper (the AREDS formulation) slowed the progression of moderate dry AMD (defined as extensive intermediate size drusen or at least one large lesion. A second randomized trial, AREDS2, focused on whether the AREDS formulation could be improved with the addition of omega-3 fatty acids and/or certain antioxidants (lutein and zeaxanthin) and the subtraction of β-carotene. Although omega-3 fatty acids did not provide any additional benefit, lutein and zeaxanthin were found to be an appropriate substitute for β-carotene.
Patients have the right to refuse any treatment, including those that are life prolonging. A patient's decision to refuse life-prolonging treatments is not necessarily irrational; rather, it is often based on the patient's health care values, goals, and preferences in the context of the perceived benefits and burdens of the proposed treatment. In these cases, the physician's duty is to understand the rationale for the decision and ensure that it is informed. This patient has provided informed refusal for hemodialysis, and her decision should be respected.
Achilles tendinopathy   Achilles tendinopathy, which classically presents with burning heel pain and stiffness that worsen with activity and improve with rest. On examination, there is frequently tenderness to palpation approximately 2 to 6 cm proximal to the Achilles tendon insertion on the calcaneus. Symptoms typically begin after an individual increases his or her level of physical activity, as is the case with this patient. High ankle sprains typically result from excessive dorsiflexion or eversion that causes injury to the tibiofibular syndesmotic ligaments connecting the distal tibia and fibula.Tarsal tunnel syndrome is caused by compression of the posterior tibial nerve as it passes within the tarsal tunnel below the medial malleolus. It is characterized by pain and paresthesias in the medial ankle that extend into the midfoot. Symptoms commonly worsen with standing, walking, and running. On examination, pain can be elicited by tapping on the posterior tibial nerve along its course.
Management of symptomatic vulvovaginal atrophy
Symptoms of atrophic vaginitis affect 10% to 40% of postmenopausal women and include vaginal dryness, dyspareunia, vulvovaginal irritation, and itch. The associated dyspareunia may lead to avoidance of sexual activity due to discomfort. Treatment for genitourinary syndrome of menopause may include hormone-free vaginal moisturizers, which may control symptoms in some women. If symptoms persist with lubricant use, topical estradiol is useful in alleviating vaginal symptoms. A low-dose tablet containing 25 µg of 17-β estradiol is available; it is generally inserted nightly for 2 weeks and then twice weekly on nonconsecutive nights to restore vaginal epithelium. Several classes of medication may exacerbate vaginal dryness, including antiestrogens (tamoxifen, aromatase inhibitors), progestins, antihistamines, and anticholinergics.
Sensorineural hearing loss, which is the most common cause of continuous, high-pitched tinnitus. Sensorineural hearing loss results from decreased sound perception due to disorders of the cochlea or acoustic nerve. Risk factors include age (presbycusis), exposure to loud noise, and ototoxic medications.Acoustic neuroma (or vestibular schwannoma) is a Schwann cell–derived tumor that arises from the vestibular portion of cranial nerve VIII and may cause sensorineural hearing loss and tinnitus. However, acoustic neuromas are rarely bilateral or cause symmetric hearing loss.Otosclerosis is a cause of conductive hearing loss resulting from bony changes in the middle ear. Although usually also of progressive onset, otosclerosis results in loss of ability to hear low-pitched sounds without tinnitus.
The Pathophysiology and Treatment of Glaucoma
Patients with POAG present with bilateral peripheral visual loss that occurs gradually and painlessly. Findings on examination are increased cup:disc ratio, vertical extension of the central cup, and disc hemorrhages. Testing shows an elevation of intraocular pressure (generally considered >22 mm Hg) and loss of peripheral visual field depth. The primary treatment for POAG is lowering the intraocular pressure with medications. β-Blockers have traditionally been used as first-line therapy, although prostaglandins are increasingly being used for this purpose.
Guideline on the Treatment of Blood Cholesterol to Reduce Atherosclerotic Cardiovascular Risk in Adults
High-intensity statin therapy (atorvastatin, 40-80 mg/d; rosuvastatin, 20-40 mg/d) is appropriate in this patient who experienced a transient ischemic attack, a clinical manifestation of atherosclerotic cardiovascular disease (ASCVD). In addition to aspirin and treatment of other cardiovascular risk factors (hypertension, diabetes mellitus, smoking), statin therapy should be initiated for its well-established benefits in treating blood cholesterol levels to reduce future cardiovascular events. Even with concomitant hypertriglyceridemia, high-intensity statin therapy is still the primary treatment for patients with clinical ASCVD, unless patients have risk factors for statin-related adverse effects. Moderate-intensity statin therapy (atorvastatin, 10-20 mg/d; simvastatin, 20-40 mg/d; fluvastatin, 40 mg twice daily; lovastatin, 40 mg/d; pitavastatin, 2-4 mg/d; pravastatin, 40-80 mg/d; rosuvastatin, 5-10 mg/d) is not the first choice for patients with clinical ASCVD due to the superior benefits of high-intensity statin therapy in this population. If the patient had risk factors for statin-related adverse effects, such as age older than 75 years or kidney or hepatic dysfunction, moderate-intensity statin therapy is an appropriate second-line treatment.
Updated Recommendations for Use of Tetanus Toxoid, Reduced Diphtheria Toxoid, and Acellular Pertussis Vaccine (Tdap) in Pregnant Women
Pregnant women should receive a single dose of the tetanus, diphtheria, and acellular pertussis (Tdap) vaccine between 27 and 36 weeks' gestation during each pregnancy, regardless of when they last received either the tetanus and diphtheria (Td) or Tdap vaccine.The Td and Tdap vaccines do not contain live elements and are considered safe to administer to pregnant women, as there is no evidence to suggest an increased rate of adverse events in this population.
Chronic Fatigue Syndrome Diagnosis and Treatment
Attention should be directed to management with either graded exercise or cognitive-behavioral therapy.
Hearing Loss in Older Adults b
Otosclerosis is caused by abnormal bone hardening and growth in the middle ear that disrupts sound transmission from the middle ear to the inner ear. Diagnostic clues in this patient include gradual onset, difficulty hearing low-pitched sounds, and no history of exposure to loud noises.Presbycusis, another form of sensorineural hearing loss, is age-related hearing loss and is typically symmetric and affecting high frequencies.
Clinical consequences of polypharmacy in elderly.
Administration of multiple medications increases the risk for inappropriate use, drug-drug interactions, adverse reactions, poor adherence, and medication errors. This patient is taking two anticholinergic agents (oxybutynin for urinary incontinence and the over-the-counter antihistamine loratadine). The American Geriatrics Society Beers Criteria recommend against the use of anticholinergic agents in older patients because they can cause confusion, urinary retention, constipation, and dry mouth. She is also on the proton pump inhibitor omeprazole without an apparent indication for treatment. In addition, the risk-to-benefit ratio of using a lipid-lowering agent to confer long-term benefits must be reassessed in very elderly adults.
2012 American Geriatrics Society BEERS criteria
2012 American Geriatrics Society PHQ 9 depression score
A Generalist's Guide to Treating Patients With Depression With an Emphasis on Using Side Effects to Tailor Antidepressant Therapy
The norepinephrine and dopamine reuptake inhibitor bupropion is an appropriate alternative antidepressant for patients who experience sexual side effects from selective serotonin reuptake inhibitor therapy.Buspirone is approved for the treatment of anxiety disorders, but not depression. Although there is some evidence suggesting that buspirone, when added to SSRI treatment for depression, may augment the antidepressant effect and counter sexual side effects caused by SSRIs,Although mirtazapine is associated with a low rate of sexual side effects, this agent stimulates appetite and is associated with weight gain. Mirtazapine is an appropriate antidepressant for patients with anorexia and weight loss due to depression.Bupropion is an appropriate alternative agent for an overweight patient experiencing sexual side effects with an SSRI because it is an effective antidepressant, has a low rate of sexual side effects, and is not associated with weight gain.
Guideline on Perioperative Cardiovascular Evaluation and Management of Patients Undergoing Noncardiac Surgery
Regardless of cardiac risk factors, no further coronary evaluation is advised for patients with an exercise capacity greater than or equal to 4 metabolic equivalents (METs), and climbing a flight of stairs meets that criterion. In patients with an exercise capacity less than 4 METs, coronary evaluation is indicated if the estimated risk of perioperative major adverse cardiac events is greater than or equal to 1%.  patient with known coronary artery disease (CAD) but normal cardiac function scheduled for intermediate-risk surgery (defined as a risk of cardiac death or nonfatal myocardial infarction of 1%-5%), electrocardiography is indicated according to the current American College of Cardiology/American Heart Association (ACC/AHA) guideline.
The treatment of patients with medically unexplained symptoms in primary care a review of the literature
A systematic review of 94 randomized controlled trials found improvement in symptoms in patients with MUS who were treated with antidepressants.
Experts' opinions on the management of medically unexplained symptoms in primary care. A qualitative analysis of narrative reviews and scientific editorials
Preseptal cellulitis is inflammation that is limited to the areas of the eyelids and facial tissues that are anterior to the orbital septum. It is more common than orbital cellulitis in adults and can usually be differentiated from orbital cellulitis by pain localized to the anterior tissues without ophthalmoplegia, pain with eye movement, or proptosis,Orbital cellulitis often occurs in the setting of recent dental or sinus infection; characteristic findings include eyelid swelling, ophthalmoplegia, pain with eye movement, and occasionally proptosis.
Evaluation and Management of Abnormal Uterine Bleeding in Premenopausal Women
anovulatory pattern based on the unpredictable occurrence of bleeding of variable flow and duration. In women with prolonged anovulation, there is loss of normal hormonal flux with exposure to unopposed estrogen without the normal endometrial protective effect of progesterone. This increases the risk for endometrial hyperplasia and endometrial malignancy. Additional risk factors for endometrial cancer in premenopausal women include obesity, nulliparity, age 35 years or older, diabetes mellitus, family history of colon cancer, infertility, and treatment with tamoxifen. In women younger than 35 years of age with anovulatory bleeding and no other risk factors for endometrial cancer, hormonal therapy for anovulation is appropriate. However, in women younger than 35 years of age with risk factors, or any patient with anovulatory bleeding 35 years of age or older, endometrial biopsy should be performed to exclude significant endometrial pathology. FSH level can be used to confirm menopausal status if a woman has been amenorrheic for longer than 12 months.Transvaginal ultrasonography may have a role in evaluation of postmenopausal bleeding to assess for endometrial thickness, but it is not useful in assessing bleeding in premenopausal women due to significant variations in endometrial thickness caused by hormonal fluctuation.
Epidemiology, diagnosis, and treatment of neck pain.
Imaging is indicated for neck pain following trauma or if a structural abnormality, such as a compression fracture, is suspected. Imaging may also be indicated in patients who have weakness or clinical evidence of spinal cord involvement as a cause of neck pain. Additionally, imaging may be useful in those with a clinical presentation suggestive of malignancy or infection as a cause of neck pain.
Screening for Colorectal Cancer
Yearly fecal immunochemical testing (FIT). Annual stool testing for occult blood using either high-sensitivity guaiac fecal occult blood testing (gFOBT) or FIT is an acceptable colon cancer screening strategy in average-risk patients. Randomized controlled trials have shown statistically significant reductions in colorectal cancer incidence (17%-20%) and mortality (15%-33%) with regular gFOBT screening. Limitations of gFOBT screening include low sensitivity for advanced adenomas (11%-41%), diet and medication interactions that may produce false-positive or false-negative results, and the need for appropriate diagnostic follow-up (that is, colonoscopy) if test results are positive to achieve maximum benefit. FIT uses specific antibodies to detect globin in the stool and is generally considered to be a more sensitive study than guaiac-based testing. In cross-sectional studies, FIT sensitivity has ranged from 60% to 85% for colorectal cancer and 25% to 50% for advanced adenomas.The U.S. Preventive Services Task Force (USPSTF) recommends screening all adults aged 50 to 75 years for colorectal cancer with one of several different methods: high-sensitivity fecal occult blood testing (gFOBT or FIT) every year, flexible sigmoidoscopy every 5 years, combined flexible sigmoidoscopy every 5 years with high-sensitivity fecal occult blood testing every 3 years, or colonoscopy every 10 years.The USPSTF recommends flexible sigmoidoscopy every 5 years with gFOBT or FIT every 3 years.All adults aged 50 to 75 years should be screened for colorectal cancer using high-sensitivity fecal occult blood testing every year, flexible sigmoidoscopy every 5 years, combined flexible sigmoidoscopy every 5 years with high-sensitivity fecal occult blood testing every 3 years, or colonoscopy every 10 years.
A ventilation-perfusion (V/Q) lung scan is the recommended initial test for evaluating chronic thromboembolic pulmonary hypertension (CTEPH). Patients with CTEPH have nonspecific symptoms and the diagnosis is often missed. However, patients with CTEPH typically have a mild restrictive or obstructive defect, although spirometry is often normal. Most patients will have a reduction in the DLCOout of proportion to any abnormalities in spirometry. A V/Q lung scan may be a consideration if this patient's HRCT scan is normal. 20% of patients with diffuse parenchymal lung disease have subtle interstitial abnormalities not detectable on a chest radiograph.
Pulmonary Vascular Complications of Liver Disease
The Art and Science of Diagnosing and Treating Lung and Heart disease secondary to liver disease
portopulmonary hypertension. This diagnosis is suggested by evidence of pulmonary hypertension in the setting of portal hypertension, typically associated with liver cirrhosis.portopulmonary hypertension is part of group 1 (pulmonary arterial hypertension [PAH]). Hepatopulmonary syndrome is a disorder caused by dilated small vessels in the pulmonary vasculature resulting in shunting of blood, and it should be considered in a patient with liver disease who is hypoxic. Pulmonary hypertension is not a defining feature. Intrapulmonary shunting is confirmed by the appearance of contrast (bubbles from agitated saline) in the left heart following injection into a peripheral vein.Pulmonary veno-occlusive disease (PVOD) is a rare cause of pulmonary hypertension caused by fibrous occlusion of distal pulmonary veins.VOD is confirmed by pathology but can be suggested by radiographic abnormalities such as pleural effusions or a prominent interstitium on chest radiograph and septal thickening on chest CT. some patients with chronic thromboembolic pulmonary hypertension (CTEPH) do not report a history of deep venous thrombosis.
Epidemiology and Microbiology of hospital acquired pneumonia
Ventilator-associated pneumonia (VAP) is a serious, preventable complication of mechanical ventilation. It is defined as pneumonia with onset at least 48 hours after endotracheal intubation. emperature greater than 38.0 °C (100.4 °F), leukocytosis or leukopenia, increased purulent secretion, new or progressive pulmonary infiltrates, and worsening ventilation parameters, particularly after a period of improvement Dx by lower respiratory tract sampling. After being in hospital for several days – multidrug-resistant organisms, including Pseudomonas species an antipseudomonal cephalosporin or carbapenem would be appropriate. Ceftriaxone and azithromycin would be good coverage for community-acquired pneumonia not HAP.Chest physiotherapy is useful for assisting with the removal of secretions in patients with COPD, cystic fibrosis, and ciliary dyskinesia.
Noninvasive Ventilation in Acute Cardiogenic Pulmonary Edema 1
NPPV settings include an inspiratory positive airway pressure (IPAP) and an end-expiratory positive airway pressure (EPAP). The EPAP component of NPPV helps maintain airway patency and recruits atelectatic or flooded alveoli; it also counters the increased workload imposed by high airway resistance. NPPV decreases the need for mechanical ventilation, improves respiratory parameters, and is associated with improved survival, especially in patients with hypercapnia. Trials of early ultrafiltration for patients hospitalized with acute decompensated heart failure with volume overload did not demonstrate any definitive effects on mortality.
Short-term vs conventional glucocorticoid therapy in acute exacerbations of chronic obstructive pulmonary disease the REDUCE randomized clinical trial.
In addition to short-acting bronchodilators and supplemental oxygen as needed, antibiotics and systemic glucocorticoids (such as prednisone) are indicated for treatment of acute COPD exacerbations. The most common bacterial pathogens that cause exacerbations areHaemophilus influenzae, Haemophilus parainfluenzae, Streptococcus pneumoniae, and Moraxella catarrhalis. Systemic glucocorticoids decrease recovery time, improve lung function, improve arterial hypoxemia, and reduce the risk of early relapse. A prednisone dose of 40 mg/d for 5 days is recommended. Exacerbations of COPD. The benefits of glucocorticoids in acute COPD exacerbation have been documented with systemic treatment and not with inhaled agents such as fluticasone. Although adding a combination of a long-acting β2-agonist (LABA) and inhaled glucocorticoid at the time of discharge may be appropriate, treating an acute exacerbation with antibiotics and an inhaled glucocorticoid would not be appropriate.Short-acting β2-agonists (albuterol) with or without short-acting anticholinergic agents are preferred for treatment of acute COPD exacerbations. Guidelines suggest adding a LABA or a combination of a LABA and an inhaled glucocorticoid at the time of discharge, in addition to the long-acting anticholinergic agent (tiotropium)Roflumilast is an oral phosphodiesterase-4 inhibitor that reduces airway inflammation. Roflumilast is indicated for patients with severe or very severe COPD with recurrent exacerbations; it is not indicated for use during acute exacerbations.
Guidelines for the diagnosis and treatment of pulmonary hypertension
Oxygen measurement during sleep (overnight pulse oximetry) and exertion (such as with a 6-minute walk test) may determine the need for oxygen therapy in patients with pulmonary hypertension due to underlying lung disease (group 3 classification).High-resolution CT (HRCT) scanning provides detailed information about the lung parenchyma and is particularly valuable for evaluating suspected diffuse parenchymal lung diseases.Right heart catheterization is typically used to evaluate PH of unclear cause, and it is generally not necessary when PH is believed to be related to underlying lung disease.
Surviving Sepsis Campaign International Guidelines for Management of Severe Sepsis and Septic Shock 2012
In patients with septic shock, aggressive fluid resuscitation after the early resuscitation phase (within the first several hours after diagnosis) can be detrimental.Although individual markers of volume status are imperfect, the combination of a normalized lactic acid level, substantial positive fluid balance, improved blood pressure, and elevated central venous pressure suggest that the patient is euvolemic if not hypervolemic.Administration of colloids offers no advantage over crystalloids in resuscitating critically ill patients in general; however, sepsis guidelines note that albumin may be advantageous in patients with refractory shock not responding to crystalloids.Studies of stress-dose glucocorticoids have not consistently shown benefit in patients with septic shock. Their use is generally reserved for patients with persistent shock despite fluid resuscitation and vasopressor support
Expert Panel Report 3 (EPR-3) Guidelines for the Diagnosis and Management of Asthma-Summary Report 2007. The preferred regimen for treating moderate persistent asthma is the combination of a low-dose inhaled glucocorticoid and LABA. Adding a LABA to inhaled glucocorticoid therapy has increased synergistic anti-inflammatory properties compared with either agent alone. A leukotriene agonist or low-dose inhaled glucocorticoid are recommended treatment options for patients with mild persistent asthma, defined as asthma symptoms occurring more than 2 days per week but not daily with an FEV1 of greater than or equal to 80% of predicted.
Advances in neuroendocrine lung tumors
Notch Signaling in Neuroendocrine Tumors
obstruction with a likely postobstructive pneumonia. This should be suspected in patients who have a persistent pulmonary infiltrate and a localized wheeze on examination. they are the most common lung cancer in children and adolescents. Most bronchial carcinoid tumors involve the proximal airways, so patients may present with symptoms related to endobronchial narrowing or obstruction, including postobstructive pneumonia. Patients with allergic bronchopulmonary aspergillosis can present with recurrent asthma exacerbations in the setting of peripheral eosinophilia, elevated serum IgE levels, and bronchiectasis. Chronic eosinophilic pneumonia is associated with peripheral and upper lobe–predominant areas of consolidation that improve with glucocorticoid therapy.
The Relationship Between Chest Tube Size and clinical outcome in pleural effusion
Complicated parapneumonic effusions should be managed with drainage and antibiotics that will treat anaerobic infection.Small-bore (10-14 Fr [3.3-4.7 mm]) thoracostomy tubes have been demonstrated to be adequate for most patients with pleural infection and are associated with increased patient comfort.Large-bore thoracostomy tubes have not demonstrated any advantage over small-bore thoracostomy tubes in the drainage of pleural effusion and are associated with increased patient discomfort.Empirically selected antibiotics must provide adequate coverage for anaerobic organisms that are common in patients with empyema. Reasonable options include clindamycin, β-lactam plus β-lactamase inhibitors, and carbapenems.
Paradoxic Vocal Fold Movement Disorder
Vocal cord dysfunction (also known as paradoxical vocal fold motion disorder) is characterized by adduction of the vocal cords during inspiration; symptoms include mid-chest tightness, dyspnea, and lack of symptom relief with asthma treatment. Patients may also note cough and dysphonia, and stridor may be present that may be perceived on examination as an inspiratory monophonic wheeze.
Management of spontaneous pneumothorax
Emergent needle thoracostomy followed by thoracostomy tube placement is indicated in patients with a large, hemodynamically significant (tension) pneumothorax. However, in patients such as this one with a large pneumothorax that is symptomatic but stable, it is reasonable to perform needle aspiration of the pneumothorax. If the lung expands after aspiration, the patient may be appropriately observed for several hours with reimaging and discharge if stable. Placement of a one-way (Heimlich) valve is another option with outpatient follow-up. Insertion of a small-bore thoracostomy tube (<14 Fr [4.7 mm]) is indicated as initial treatment for larger (>2 cm) secondary pneumothoraces in patients who are symptomatic, but it would not be a recommended initial treatment for this patient with a primary pneumothorax.
ACCF AHA 2009 Expert Consensus Document on Pulmonary Hypertension
Pulmonary hypertension related to left-sided heart disease is classified as group 2; treatment is directed at the underlying cardiac disease. pulmonary hypertension (PH) in the setting of diastolic heart failure (also known as heart failure with preserved ejection fraction [HFpEF]). HFpEF, an increasingly common cause of PH, is often seen in association with systemic hypertension and left ventricular hypertrophy. PH related to left-sided heart disease is classified as group 2, and treatment is directed at the underlying cardiac disease. Therefore, therapy for HFpEF is based on treating the causes and symptoms of the heart failure. Because hypertension is a common cause of HFpEF, aggressive control of the systemic arterial blood pressure is necessary. Because no specific agent has definitively proved to be more effective than another, therapy should follow hypertension treatment guidelines.Epoprostenol is an advanced therapy; it is an intravenous pulmonary vasodilator reserved for management of group 1 PH (pulmonary arterial hypertension) associated with advanced symptoms and functional limitation.The pulmonary vasodilator sildenafil is considered advanced therapy, which is directed at PH itself rather than the underlying cause, and is indicated for the treatment of group 1 pulmonary arterial hypertension. Not only is the role of such drugs in the treatment of groups 2 to 5 PH unclear.
Potentially pathogenic airway bacteria and neutrophilic inflammation in treatment resistant severe asthma.
Airway Microbiota in Severe Asthma and Relationship to Asthma Severity and Phenotypes.
International ERS ATS guidelines on definition, evaluation and treatment of severe asthma
Omalizumab, a humanized monoclonal antibody directed at IgE, is the first biologic agent approved by the FDA for use in asthma. Administered subcutaneously every 2 to 4 weeks, omalizumab is indicated in patients with moderate to severe persistent asthma with the following characteristics: (1) symptoms inadequately controlled with inhaled glucocorticoids, (2) evidence of allergies to perennial aeroallergens, and (3) serum IgE levels between 30 and 700 U/mL (30-700 kU/L) (normal range, 0-90 U/mL [0-90 kU/L])
Ventilator-induced lung injury.
ventilator-induced lung injury (VILI), which represents iatrogenic acute respiratory distress syndrome (ARDS) caused by mechanical ventilation. VILI is most likely to occur when tidal volume and/or plateau pressure are too high. Her ideal body weight is 48 kg (106 lb); based on this, the protective tidal volume would be 288 mL (6 mL/kg of ideal body weight). In addition to low tidal volume, protective ventilation also entails keeping the plateau pressure below 30 cm H2O if possible. Pulmonary embolism would certainly worsen ventilation-perfusion matching and oxygenation, but it would not typically worsen lung compliance over the first 24 hours postoperatively.ARDS can develop in response to transfusion of blood products when antibodies in transfused plasma activate recipient neutrophils; this is known as transfusion-associated lung injury (TRALI). This can occur after transfusion of any blood product, and it appears to be most likely when the volume of transfused plasma is high and comes from a multiparous female donor
Investigation of a unilateral pleural effusion in adults
(exudative pleural effusion, chronic chest pain, weight loss) and imaging findings (pleural thickening). suggest mesothelioma in the correct risk factor setting.If repeat pleural fluid cytology is negative and the suspicion for malignancy is high in an exudative effusion, thoracoscopy is the next step in the evaluation; it has a diagnostic sensitivity for malignant disease of greater than 90%. The overall mean sensitivity of pleural fluid cytology for identifying malignant disease is approximately 60%. Approximately 65% of positive results are obtained on the initial thoracentesis. The diagnostic yield from sending more than two samples is very low. One study demonstrated an additional yield of 27% on the second sample and only 5% on the third.PET/CT scanning is a useful tool for staging disease, particularly for identifying extrathoracic disease. However, it is not a preferred initial diagnostic study because both malignant and nonmalignant pleural thickening can be avid for fluorodeoxyglucose and yield a positive finding on this study.
A Rational Framework for Selecting Modes of Ventilation
Understanding mechanical ventilators
Management of critically ill patients receiving noninvasive and invasive mechanical ventilation in the emergency department
Newer nonconventional modes of mechanical ventilation
The breath sequence must be determined, with spontaneous and mandatory breaths being the two primary options. respiratory failure and is unable to effectively breathe on his own, a spontaneous breath sequence (in which the patient breathes on his own with no back-up rate) would not be appropriate, and mandatory ventilation is indicated. Mandatory ventilation may be either intermittent or continuous. Intermittent mandatory ventilation allows for spontaneous breaths between or during mandatory breaths; however, this may lead to dyssynchrony, in which the phases of mechanical breaths do not match the phases of patient breaths and is believed to contribute to lung injury. With CMV, all breaths are supported by the ventilator, and the patient may trigger additional supported breaths above the preset frequency; this consistent breath pattern reduces the risk for dyssynchrony. In general, for acutely ill patients who are hemodynamically unstable, supporting all respiratory efforts with CMV is recommended. Pressure-controlled ventilation, in which a breath is delivered according to a preset inspiratory pressure, has been associated with ventilator-induced lung injury; therefore, volume control, in which tidal volume and inspiratory flow are designated, is the preferred breath control method as the initial strategy for ventilation of critically ill patients..
Advanced Ventilator Modes and Techniques
Occupational asthma.  diisocyanates from spray painting in the auto body shop where he works, which are associated with triggering bronchospasm. Serial monitoring of peak flows throughout the workday, with comparison to a baseline time period away from exposures, can be helpful to support the diagnosis. Similarly, spirometry before and after rechallenge with workplace exposures is helpful to confirm the diagnosis. If significant changes in spirometry are not seen post workplace exposure and a suspicion for any underlying asthma remains, a methacholine challenge test may be appropriate.
Health Outcomes of Continuous Positive Airway Pressure versus Oral Appliance Treatment for Obstructive Sleep Apnea
Oral appliances are an alternative to CPAP therapy for mild to moderate OSA. Randomized controlled trials on the use of oral appliances have demonstrated reasonable control of OSA and improvement in symptoms such as daytime sleepiness. Case series have demonstrated significant improvements in the apnea-hypopnea index (AHI) following maxillomandibular advancement; however, in most patients it would not be considered a primary treatment owing to its level of invasiveness. Literature examining uvulopalatopharyngoplasty, a soft-palate procedure, shows limited improvements in the AHI, so it should generally not be recommended for treatment of OSA.
Diagnosis and Management of life threatening Pulmonary Embolism
Obstructive shock is a subset of cardiogenic shock in which there is mechanical blockage in the central circulation, as can occur with massive PE (as in this patient) or tension pneumothorax. The findings that support obstructive shock due to PE include hypotension, an accentuated P2, and profound hypoxemia. With hemodynamically significant PE, the electrocardiogram (ECG) may show the classic S1Q3T3 pattern caused by right ventricular strain due to acute obstruction of the pulmonary artery,
Lung volume reduction therapies for advanced emphysema an update.
1) severe COPD; (2) symptomatic despite maximal pharmacologic therapy; (3) completed pulmonary rehabilitation; (4) evidence of bilateral predominant upper-lobe emphysema on CT; (5) postbronchodilator total lung capacity greater than 100% and residual lung volume greater than 150% of predicted; (6) maximum FEV1 greater than 20% and less than or equal to 45% of predicted and DLCO greater than or equal to 20% of predicted; and (7) ambient air arterial PCO2 less than or equal to 60 mm Hg (8.0 kPa) and arterial PO2 greater than or equal to 45 mm Hg (6.0 kPa). Higher mortality is seen in patients with severe emphysema with an FEV1 of less than or equal to 20% of predicted and a DLCO less than or equal to 20% of predicted or homogeneous emphysema on high-resolution CT scan.
Vilanterol is a newer ultra–long-acting β2-agonist that may be used once daily.
Criteria for referral for lung transplant evaluation include one of the following: pulmonary hypertension, cor pulmonale, or both despite oxygen therapy; history of exacerbation associated with acute hypercapnia; and FEV1 less than 20% of predicted with DLCO less than 20% of predicted or homogeneous distribution of emphysema.
Dangerous Liaisons Caspase-11 and Reactive Oxygen Species Crosstalk in Pathogen Elimination.
Linking CD11b (+) Dendritic Cells and Natural Killer T Cells to Plaque Inflammation in Atherosclerosis.
Markers of Inflammation Associated with Plaque Progression and Instability in Patients with Carotid Atherosclerosis
To Extinguish the Fire from Outside the Cell or to Shutdown the Gas Valve Inside Novel Trends in Anti-Inflammatory Therapies.
An Expanding Role for Interleukin-1 Blockade from Gout to Cancer
Basic Characteristics of Adults with Periodic Fever, Aphthous Stomatitis, Pharyngitis, and Adenopathy Syndrome in Comparison with the Typical Pediatric Expression of Disease b
Interleukin-1 as a common denominator from autoinflammatory to autoimmune disorders premises, perils,
Diet, Microbiota, Obesity, and NAFLD A Dangerous Quartet.
Metagenomic cross-talk the regulatory interplay between immunogenomics and the microbiome.
Inflammasomes and the microbiota–partners in the preservation of mucosal homeostasis.
Modulation of inflammasome activity by Porphyromonas gingivalis in periodontitis and associated systemic diseases.
Looking in the Porphyromonas gingivalis cabinet of curiosities the microbium, the host and cancer association.
Purine-Rich Foods, Dairy and Protein Intake, and the Risk of Gout in Men
The inflammasome and danger molecule signaling at the crossroads of inflammation and pathogen persistence in the oral cavity
NLRP3 inflammasome and host protection against bacterial infection.
From the stomach to other organs Helicobacter pylori and the liver.
Metabolic consequences of Helicobacter pylori infection and eradication.
Inflammatory status in older women with and without metabolic syndrome
Inflammation, C-Reactive Protein, and Atherothrombosis
Increased Expression of the NOD‑like Receptor Family, Pyrin
Initiation and perpetuation of NLRP3 inflammasome activation and assembly.
From C-Reactive Protein to Interleukin-6 to Interleukin-1
Pathogenesis of acute stroke and the role of inflammasomes
High-sensitivity C-reactive protein and atherosclerotic disease from improved risk prediction to risk-guided therapy.
Increased Expression of the NOD-like Receptor Family, Pyrin Domain Containing 3 Inflammasome in Dermatomyositis and Polymyositis is a Potential Contributor to Their Pathogenesis
Gastrointestinal involvement in polyarteritis nodosa.
http://thecarlatreport.com/ – Psychiatry Report
http://www.nature.com/npjregenmed/  Nature regenerative medicine Magazine
Black tattoo inks induce reactive oxygen species production correlating with aggregation of pigment nanoparticles and product brand but not with the polycyclic aromatic hydrocarbon content
Tattoo inks contain polycyclic aromatic hydrocarbons that additionally generate deleterious singlet oxygen
Body art: Coloured inks often contain lead, cadmium, chromium, nickel, titanium and other heavy metals that could trigger allergies or diseases, scientists say
Particular concern surrounds the use of black tattoo inks, often made from soot containing products of combustion called polycyclic aromatic hydrocarbons (PAHs).
The PAHs in the inks include benzo(a)pyrene, a compound identified in an Environmental Protection Agency toxicity report as 'among the most potent and well-documented skin carcinogens.'
But serious epidemiological studies pose difficulties, since getting a tattoo is still risky behaviour.
Attempting to isolate whether these are the carcinogenic factors in a group of people who habitually engage in risk taking behaviours – like smoking – is impossible.
The FDA has the power to control tattoo inks under the Federal Food, Drug and Cosmetic Act, but up to now the agency has not flexed its regulatory muscles.
A spokesman for the agency said: 'Because the dyes and inks used in tattoos have not been approved by FDA, we do not know the specific composition of what these inks and dyes may contain.
'Therefore, we are unable to evaluate for chronic health concerns, such as cancer.'
Particular concern surrounds the use of black tattoo inks, often made from soot containing products of combustion called polycyclic aromatic hydrocarbons (PAHs).
The PAHs in the inks include benzo(a)pyrene, a compound identified in an Environmental Protection Agency toxicity report as 'among the most potent and well-documented skin carcinogens.'
But serious epidemiological studies pose difficulties, since getting a tattoo is still risky behaviour.
Attempting to isolate whether these are the carcinogenic factors in a group of people who habitually engage in risk taking behaviours – like smoking – is impossible.
The FDA has the power to control tattoo inks under the Federal Food, Drug and Cosmetic Act, but up to now the agency has not flexed its regulatory muscles.
A spokesman for the agency said: 'Because the dyes and inks used in tattoos have not been approved by FDA, we do not know the specific composition of what these inks and dyes may contain.
'Therefore, we are unable to evaluate for chronic health concerns, such as cancer.'
Environmental news and Tattoos
Tattoo inks contain polycyclic aromatic hydrocarbons that additionally generate deleterious singlet oxygen
Malignant melanoma in a tattoo case report and review of the literature
Tattoo Ink-Related Cutaneous Pseudolymphoma
Malignant Melanoma Arising in Red Tattoo Ink b
Inflammatory Complications Related to Tattooing A Histopathological Approach Based on Pattern Analysis
Black tattoos entail substantial uptake of genotoxicpolycyclic aromatic hydrocarbons (PAH) in human skin and regional lymph nodes
Media release for harms of tattoos
Carcinogenicity of carbon black, titanium dioxide, and talc
From truth about cancer website:
Benzo(a)pyrene and Other Cancer-Inducing Components in Tattoo Ink
Health concerns about the presence of toxic chemicals in tattoos first emerged in 2011 when studies showed that benzo(a)pyrene, a chemical used in black tattoo ink, could induce skin cancer in test animals.
In fact, benzo(a)pyrene – found originally in coal tar – is listed as a carcinogen by the International Agency for Research on Cancer (IARC).
Further, a study carried out at Copenhagen University Hospital found cancer-causing chemicals in 13 out of 21 commonly used European tattoo inks. The Danish researcher leading this study went on record to say that the millions of Europeans being tattooed using chemical substances of unknown origin should be given detailed information about the inks being used on them, along with the effects on their health.
The Tattoo Ink Manufacturers of Europe (TIME) states that up to 5% of tattoo studios use inks containing carcinogenic aromatic amines. They strongly advocate reducing the presence of these carcinogenic components in tattoo inks to zero.
Nanoparticles Found in Tattoo Ink
A study published in the British Journal of Dermatology in 2011 was the first to reveal the presence of so-called "nanoparticles" in tattoo inks. Using sophisticated methods such as laser diffraction, electron microscopy, and X-ray diffraction, this study showed that black pigments contain the smallest particles, while white pigments had the largest particles, and colored pigments had intermediate-sized particles.
Notably, the vast majority of tested tattoo inks contained significant amounts of nanoparticles except for the white pigments. In fact, the black pigments were almost pure nanoparticles – which are defined as particles with at least one dimension less than 100 nanometers.
A nanometer is an unimaginably small unit of spatial measurement, equal to one billionth of a meter. It is a term commonly used in nanotechnology, which is the science behind the building of extremely small machines.
Most black tattoo inks are made up of soot products such as carbon black and may also contain small amounts of polycyclic aromatic hydrocarbons (PAHs). PAHs are considered pollutants due to their potential for causing adverse health effects and have been strongly linked to skin, lung, bladder, liver, and stomach cancers in various studies using animal models.
Cancer and the Role of Nanoparticles
According to a 2013 study carried out at Bradford University in the U.K., tattoos can increase the risk of cancer.
Bradford University scientists found that tattoo inks contained cancer-causing chemicals that damaged collagen, which is a major protein that forms roughly 30% of the protein content of the human body. In fact collagen is the foundation of so-called "connective tissue" that holds us together. Collagen also contributes to the skin's elasticity and youthfulness.
This study showed that nanoparticles from tattoo dyes migrated, or moved away from the skin, to enter the blood and eventually build up in the spleen and kidneys. (We'll talk about what exactly nanoparticles are and what they can mean for your health a little further on). Both the spleen and kidneys are fragile organs, sensitive to injury and crucial for cleansing the body by getting rid of impurities.
According to one of the head researchers from Bradford University's Centre for Skin Sciences, where this study was carried out:
"…There is no question that these substances can be toxic. It takes a long time for the multiple-step nature of cancer to show its face. I don't think we should wait 20 years to see if there is anything wrong with these ingredients."
The Potential Dangers of Nanoparticles
There's no two ways about it – nanoparticles represent an incredible advance in technology. For instance, nanotechnology reduces the size of vitamins down to microscopic nano-droplets that are much easier for your body to absorb, potentially providing greater health benefits.
On the other hand, is it possible that by reducing a particle's size it becomes capable of evading the body's natural defenses more easily?
Could nanoparticles enter pores in the skin faster – and bypass our immune and detoxification mechanisms that have evolved millions of years before the nanotechnology came into existence?
Concerns such as these are why some health experts caution that great care needs to be taken as to what particles are being produced on the nano-scale. It may be that by artificially designing substances to be significantly smaller in size than would occur naturally, they may become more toxic to the body than they would otherwise be.
Carbon Black in Tattoo Ink is Potentially Carcinogenic
Carbon black is a particulate form of elemental carbon that is mainly used in rubber products, mainly tires. It is also used as a pigment in inks (including black tattoo inks), paints, and coatings, as well as in plastics. Exposure to carbon black particles occurs mainly in the form of aggregates during its manufacturing process.
Workers who produced carbon black in Germany and the U.K. had an excess risk of lung cancer, although no clear relationship between exposure to carbon black and lung cancer was found. However, another study of workers in the rubber industry in Germany exposed to carbon black showed no significant excess risk of lung cancer.
Carbon black and its extracts have also been tested in laboratory animals. These tests provided sufficient evidence for the carcinogenicity of carbon black and carbon black extracts. Based on these data, the working group of the International Agency for Research on Cancer (IARC) has classified carbon black as possibly carcinogenic to human beings.
Based on these worrying findings, The Friends of the Earth – a global network of grassroots groups – is now calling for proper regulation of tattoo inks.
Black Tattoo Inks Induce Harmful "Reactive Oxygen Species"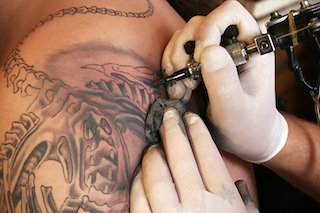 A 2013 study examined the effects of a total of nine brands of tattoo inks of six colors each (black, red, yellow, blue, green, and white), along with two additional black inks of different brands, on formation of harmful reactive oxygen species (ROS).
ROS is the name for chemically reactive molecules containing oxygen. Biologically speaking, ROS are formed naturally and play an important role in the normal functioning of the body's cells.
However, ROS generated by exposure to UV rays, radiation, and toxins like carbon black in black tattoo inks can potentially severely damage structures inside cells, leading to observable clinical symptoms including damage to the skin.
Interestingly, the study researchers found that two black inks produced the highest amounts of ROS. Not only that, the same two inks aggregated much more strongly in water relative to the other inks.
Further, ten of the11 black inks had levels of polycyclic aromatic hydrocarbons (PAHs) exceeding the European Council's recommended level – and all 11 exceeded the recommended level for benzo(a)pyrene – which as we saw earlier, has been classified as a carcinogen by the International Agency for Research on Cancer (IARC).
Some scientists also believe that PAHs may stay in the skin, absorb UV radiation from the sun and generate so-called "singlet oxygen" inside the dermis of the skin, damaging skin integrity.
Singlet oxygen is a high energy form of oxygen that is highly reactive – and possibly damaging – to organic matter, including the skin and other cells in the body.
Is Getting a Tattoo Worth the Risk?
Tattoos have been around for thousands of years. Given that it's an acceptable form of self-expression today, it's important to carefully consider the possible health effects tattoo ink can have on your body.
Unfortunately, there are many health risks associated with tattooing. Specifically, the composition of tattoo dyes needs to be carefully examined with regards to cancer risk.
Studies have shown that benzo(a)pyrene, a chemical in black tattoo ink, can induce skin cancer in test animals, while other cancer-causing chemicals have also been identified in many other tattoo inks. For instance, the International Agency for Research on Cancer (IARC) has classified carbon black – a major component of black tattoo ink – as possibly carcinogenic to human beings.
Additionally, black inks appear to be capable of producing reactive oxygen species (ROS) which can potentially damage skin cells.
It's worth remembering that the vast majority of tested tattoo inks contain nanoparticles, which may be capable of evading the body's natural defenses more easily. In fact, black tattoo pigments are almost pure nanoparticles, which have been shown to migrate away from the skin, damage collagen, and accumulate in the spleen and kidneys, with possibly harmful effects for health.
Please help bring more awareness about the link between tattoo ink and cancer by sharing this article with your friends and family below.
Souverent sleep medcine and orexins
https://mannerofspeaking.org/ Rhetorical Speech
SKIN CARE BLOGS
https://www.drbaileyskincare.com/info/blog Skin care blog
https://fashionbeautyacne.wordpress.com/ skin blog
https://www.acnease.com/acne-treatment-blog/ Acne blog
http://www.dermstore.com/blog/ Skin blog
http://highonclearskin.com/blog/
http://thelovevitamin.com/blog/